Cornyn on Dems Energy Plan: Drive Up Prices at Home, Ask for Handouts Abroad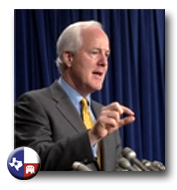 WASHINGTON – Monday U.S. Senator John Cornyn (R-TX), a member of the Senate Finance Committee, issued the following statement responding to reports of a letter Senate Democrats sent urging the Administration to ask Saudi Arabia to boost its oil production:
"Rather than approve the Keystone pipeline, the Democrats' energy plan now calls for the most powerful nation in the free world to politely ask other countries for more oil and cross our fingers.
"Just as his own cabinet officials publicly sought, gas prices have nearly doubled since President Obama took office to near-European levels around the United States.
"An 'all of the above' energy strategy starts with signing off on Keystone and tapping into our own domestic resources, which the President could do with the simple stroke of a pen."
BACKGROUND
SEN. CHARLES SCHUMER: "The United States should do more to encourage Saudi Arabia to boost its oil production to make up for lost Iranian oil, Senator Charles Schumer said on Sunday, urging renewed diplomacy as a way to ease the run-up in oil prices." ("Schumer: Saudi Oil Boost Could Calm Markets," Reuters, 2/26/12)
FLASHBACK
ENERGY SECRETARY CHU: "Somehow we have to figure out how to boost the price of gasoline to the levels in Europe." ("Times Tough For Energy Overhaul," The Wall Street Journal, 12/12/08)
INTERIOR SECRETARY SALAZAR: In 2008 when Senate Republican Leader Mitch McConnell asked that the Senate consider a bill to allow offshore drilling, then-Sen. Ken Salazar (D-CO) objected to the bill, even in the case of $10/gallon gasoline. ("Not Even at $10 a Gallon,?" Senate Republican Communications Center, 7/31/08)
PRESIDENT OBAMA: "…Obama suggested that the main problem with high gasoline prices is their rapid rise, not their total of about $4 a gallon. 'I think that I would have preferred a gradual adjustment,' Obama said." ("One Down, More to Go For Republicans Aiding McCain," The Associated Press, 6/12/08)