Cornyn, Hatch & Colleagues Call For Hearings On A Balanced Budget Amendment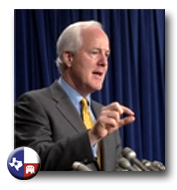 WASHINGTON - U.S. Senators John Cornyn (R-TX) and Orrin Hatch (R-UT) today led their Republican colleagues on the Senate Judiciary Committee in sending a letter to the Constitution, Civil Rights, and Human Rights Subcommittee Chairman Dick Durbin urging him to hold hearings on S.J. Res. 10, which calls for a balanced budget amendment to the U.S. Constitution. The full text of the letter is below:
June 8, 2011
The Honorable Dick Durbin, Chairman
Subcommittee on the Constitution, Civil Rights and Human Rights
Senate Judiciary Committee
United States Senate
Washington, DC 20150
Dear Chairman Durbin,
Our nation is facing a fiscal crisis that is only getting worse. The national debt, now over $14 trillion, has increased by more than one-third since January 2009. The Congressional Budget Office (CBO) estimates the deficit for the current fiscal year will be approximately $1.4 trillion and the national debt will soon be larger than the economy. The debt also has implications for our national security. Admiral Mike Mullen, Chairman of the Joint Chiefs of Staff, calls the debt "the most significant threat to our national security." Secretary of State Hillary Clinton warns that the debt "sends a message of weakness internationally."
Therefore, we ask that you immediately hold hearings on S.J.Res. 10, which calls for a balanced budget amendment to the U.S. Constitution. S.J.Res. 10 would also put in place a much-needed restraint on runaway Washington spending and protect working Americans from higher taxes. S.J.Res. 10 is supported by 47 Senators and has the support of numerous grassroots organizations.
Undoubtedly, Washington has a spending problem and this problem is getting worse. The budget deficit is now almost fifteen times the size it was when the Senate came within one vote of passing a balanced budget amendment in 1997. A balanced budget amendment is a measure that is long overdue and whose time has come.
The American people are demanding action from Washington to get our fiscal house in order once and for all.
Sincerely,
John Cornyn, United States Senator
Orrin Hatch, United States Senator
Chuck Grassley, United States Senator
Jon Kyl, United States Senator
Jeff Sessions, United States Senator
Lindsey Graham, United States Senator
Mike Lee, United States Senator
Tom Coburn, United States Senator