Cornyn Presses Education Secretary Duncan on Doggett Amendment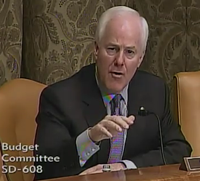 U.S. Sen. John Cornyn (R-Texas) questioned U.S. Department of Education Secretary Arne Duncan on the Administration's refusal to release $830 million in Education Jobs funds for Texas teachers and students due to the Doggett Amendment. Sens. Cornyn and Kay Bailey Hutchison (R-Texas) recently introduced Senate Bill 151, the Fairness for Texas Schools Act of 2011, to repeal the unconstitutional Doggett Amendment.
Below is a transcript from the Q&A. You can watch video of it here.
Senator Cornyn: …what I'm really interested in is how you intend to work with me and the Texas congressional delegation and Congress to make sure that the State of Texas isn't penalized to the tune of $830 million for a requirement in the law that under the Texas Constitution, the Governor does not have the power to do?
Sec. Duncan: I am intimately familiar with the details. We obviously have to follow the law and Congressional intent. I was having, I thought, good productive conversations both with the Governor and the state Superintendent, and then frankly they decided to sue the Department of Education in this matter.
Sen. Cornyn: So all discussions have ended?
Sec. Duncan: Well it's in litigation now…
Sen. Cornyn: So all discussions have ended?
Sec. Duncan: I don't know if all discussions have ended, but it makes it more difficult now that we're being sued to…
Sen. Cornyn: Well what is a state with 25 million people supposed to do when the federal government discriminates against it in the distribution of tax dollars to help public education? Your department would not accept the application, what is a state official supposed to do, other than to go to court to try to force you to do it, because of the unconstitutional requirement? Now you tell me because they've resorted to litigation, that you're not going to continue negotiations with them to try to resolve this impasse?
Sec. Duncan: No, I didn't say either one of those, and to be clear we didn't reject their application. And so there was ongoing…
Sen. Cornyn: Well you said it was not in acceptable form, because it didn't meet the requirements of the Doggett Amendment which required an unconstitutional condition for state officials.
Sec. Duncan: So we're not going to solve it this morning. What I will say is the children of Texas desperately need these resources. And our intent from day one was to make sure children around the country had access to it. Texas schools in many places are having huge budget cuts. We've seen skyrocketing class sizes, the dropout rate in Texas is pretty staggering. And if you have thoughts or creative ways that this can be resolved I'm all ears, but at this point because they chose to sue it makes it a little bit tougher to discuss publicly.
Sen. Cornyn: Mr. Secretary, I'm deadly serious about this issue, and it's not going to go away and we're going to have to work it out. And I would invite you to engage with me, and other Texas representatives to try to find a solution because this is unacceptable . Unacceptable for a state, one of the largest states in the country with 25 million people - with the kinds of needs that you just described, that you and I both understand - for the federal government to basically thumb its nose at my state. It's just unacceptable, and we're going to have continuing problems unless you and I can work out some solution.
Sec. Duncan: So we have until September to do that, and 48 states have received their money and put it to great use and saved a couple hundred thousand educated jobs around the country and driven reform, and I would love to see the children of Texas get their fair share.
---
Related content: The Doggett Layoff (Political Education on Revenge, Schools, and Teachers)