Cornyn Responds to President Obama's State of the Union Address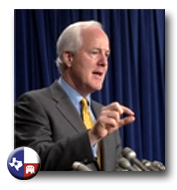 President Obama made a lot of promises tonight in his State of The Union Address – just like he's done in previous years. In past State of The Union speeches, President Obama has promised to focus on jobs and the economy, yet our unemployment rate still sits well north of nine percent. He promised to make the hard choices and cut spending, yet his policies have added more than $3 trillion to the national debt – in just the last two years. He promised to work across the aisle on energy policy, but nothing has happened. He's repeatedly promised to make immigration reform a top priority, but has done little more than use it as a talking point around Election Day.
In Texas we prefer straight talk and promises kept, over grandiose pledges and zero results.
Tonight, the President said we have to get a handle on our national debt. I couldn't agree more, but I want to see not just talk, but action. A freeze on some parts of the federal budget—as he suggested—would be a small step in the right direction, but his call for new government spending represents a giant step backwards. The best way to restore fiscal discipline in Washington, I believe, is through a Balanced Budget Amendment to our Constitution, which I intend to introduce with dozens of my colleagues very soon – and I hope the White House will endorse.