Cornyn Response to President Obama's Address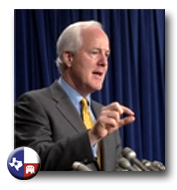 I issued the following statement after the conclusion of President Obama's address to the American people:
It's puzzling it took President Obama so long to address a waiting nation regarding a tragedy that he has compared to September 11th. While he spent two months searching for someone to blame, residents of the Gulf Coast have been searching for answers and looking for help.
Additionally, the President's moratorium on deepwater drilling will likely destroy tens of thousands of jobs in the Gulf region. Sadly, if the federal government would have been doing their job, the Deepwater Horizon tragedy may very well have been averted.
Now the President hopes to use this crisis to force a job-killing energy tax on the American people. His notion that mandating enough wind turbines and solar panels will eliminate the need for domestic oil and gas reserves is sheer fantasy, and will punish families and businesses. A national energy tax will raise prices on all Americans, drive jobs overseas and leave us more dependent on foreign sources of oil.
President Obama should focus on stopping the leak and helping state and local governments protect their beaches and fisheries. He should work to figure out what went wrong and help make sure it never happens again. We need federal regulators to actually enforce the laws that are already on the books. And if the President sincerely wants to save and create private sector jobs, he needs to abandon his job-killing policies, starting with his national energy tax.