Cornyn Statement On The Deepwater Drilling Moratorium Ruling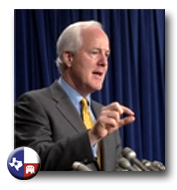 Today, I issued the following statement after a federal judge blocked the Obama Administration's six-month ban on deepwater drilling in the Gulf of Mexico:
Today's ruling on the drilling moratorium is a victory for Gulf Coast jobs and our economy and job creators. In light of the very substantial economic harm of an overly broad ban on drilling, I would urge the Obama administration to more narrowly tailor the ban to address only truly essential safety issues without compounding the economic harm to the Gulf region. Failing to do so will only inflict more devastation and hardship on American families on the Gulf Coast.