Cornyn Statement In Honor Of Veterans Day/Declaración del Senador Cornyn en honor del Día de los Veteranos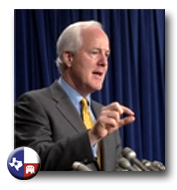 HOUSTON—U.S. Sen. John Cornyn, R-Texas, a member of the Senate Armed Services Committee, today issued the following statement in honor of Veterans Day, November 11, 2011. He will commemorate the national holiday at the City of Houston's 13th Annual "Houston Salutes American Heroes" Veterans Day Celebration.
"On Veterans Day, we are united as Texans, as Americans, and as those indebted to the fine men and women who have served this nation for generations with bravery, selflessness and honor. While we can never repay our veterans or their families in full, this Veterans Day I hope we are each reminded to value the freedoms and way of life these brave Americans fought to secure. And I hope we can show our gratitude and support to our veterans and the greater military community not just on Veterans Day but on every day of the year."
---
Declaración del Senador Cornyn en honor del Día de los Veteranos
HOUSTON–El Senador de los Estados Unidos, John Cornyn, Republicano por Texas, miembro del Comité de las Fuerzas Armadas del Senado, dio a conocer hoy la siguiente declaración en honor del Día de los Veteranos, el 11 de noviembre de 2011. Él conmemorará el día de fiesta nacional en la Decimotercera Celebración Anual del Día de los Veteranos "Houston Saluda a los Héroes Estadounidenses" en la ciudad de Houston.
"El Día de los Veteranos, estamos unidos como tejanos, como estadounidenses y como aquellos endeudados con los extraordinarios hombres y mujeres que han servido a esta nación durante generaciones con valentía, abnegación y honor. Aunque nunca podemos recompensar a nuestros veteranos o a sus familias por completo, espero que este Día de los Veteranos cada uno recuerde valorar las libertades y forma de vida que estos valientes estadounidenses lucharon para obtener. Y espero que podamos mostrar nuestra gratitud y apoyo a nuestros veteranos y a la gran comunidad militar no solo en el Día de los Veteranos sino todos los días del año".