Cornyn Statement on March Jobs Report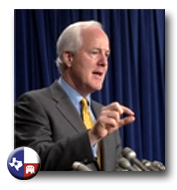 Today, I issued the following statement regarding the Labor Department's March jobs report indicating the national unemployment rate has dropped to 8.8 percent:
Today's jobs numbers are a positive sign that our economy is moving in the right direction and further evidence that tax relief, not stimulus spending, is the best way to get job creators on the move again. Since Republicans convinced our colleagues across the aisle not to raise taxes, America has added nearly 650,000 jobs and the unemployment rate has dropped from 9.4% to 8.8%.
Nevertheless, Washington's regulatory uncertainty is keeping many job creators on the sidelines and many millions of Americans unemployed. If we really want to kick our economy into high gear, we need to reign in federal bureaucrats who are making it difficult to predict future energy and health care costs, as well as access to credit.