Cornyn Statement on the Obama Administration's Deficit Report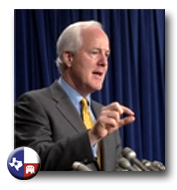 I issued the following statement in response to the report released by the Obama Administration today, which indicated that the federal budget shortfall is $1.29 trillion:
Today's eye-popping deficit of $1.29 trillion should come as no surprise to the American people given the months of unchecked spending by the Democratic Congress. This deficit report is more evidence that the fiscal policies of our self-proclaimed 'tax-and-spend liberal' President are not working.
Coupled with this month's stagnant job numbers, this trillion-dollar plus budget shortfall should be a wakeup call to President Obama and Majority Leader Reid that reckless, inside-the-beltway spending and bigger government are never the recipe for economic prosperity.