Cornyn Statement on Senate Tax Bill Vote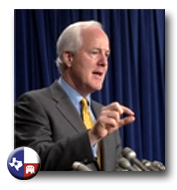 Today, I released the following statement regarding the vote on the bipartisan tax bill, which passed the Senate by a vote of 83-15:
Raising taxes on anyone, especially American families and small businesses, during a fragile economic recovery is a terrible idea. Uncertainty has kept employers on the sidelines and extending existing tax policy creates stability and predictability allowing job creators to invest in our economy and create jobs. This is just the one of many steps that need to be taken to get our economy back on track and I look forward to working with my colleagues in the next Congress to drastically cut spending and restore fiscal sanity in Washington.