Cornyn: U.S. Pressure On Our Friend Israel Is Wrong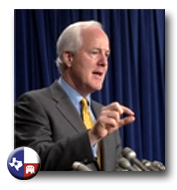 Following President Obama's Middle East speech calling for Israeli-Palestinian borders to "be based on the 1967 lines with mutually agreed swaps," I released the following statement:
President Obama should not unilaterally decide where the borders of Israel should be. Unprecedented U.S. pressure on our friend Israel is wrong and could make a negotiated peace with the Palestinians more difficult, as the Administration's previous diplomatic blunders have demonstrated.
The President's renewed demands on Israel also make his words to the rest of the region seem even more empty and hollow. Lofty rhetoric puts no meaningful pressure on oppressive regimes in Syria, Iran, and elsewhere. Peaceful protestors need to hear much more clearly that the American people are on their side.