"Crips" Gang Puts out Hit to Kill Any U.S. Soldier in Uniform. Texas, Missouri and Oklahoma on Alert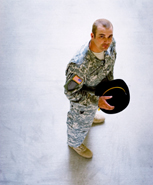 Soldiers in Oklahoma and in states bordering Oklahoma (Missouri and Texas) have been on alert after the Crips put a "hit" out for all Crips Members to shoot any U.S. soldier in uniform on sight. That's right, U.S. Soldiers are being targeted right here on U.S. soil by an American gang (un-American gang is really a better description of this race-based gang).
In Late September 2011, there was a home invasion in Oklahoma. Black members of the "107 Hoover Crips" were shot, and it is suspected that the home invaders were members of the military based at Fort Sill, Oklahoma.
In retaliation, the Crips have put out a hit to kill ANY U.S. Soldier in Uniform on sight. That's right, any U.S. soldier is threatened to be killed even if they had nothing to do with the invasion. I guess I am not surprised. They are a violent gang, so they probably do not have standards about who they kill. They kill people just for wearing the color red for crying out loud.
Security memos were sent to military units in several states including Oklahoma and Texas (Military Bases, Reserves and National Guard Units)
These memos advised military members to avoid wearing uniforms in public and to remain vigilant for anything out of the ordinary. Surprisingly, this "Crips" hit out on US Soldiers has only been reported by ONE media outlet, The Missourian. I am not sure why such a threat that has resulted in soldiers in several states to be put on alert has gone unnoticed by the media.
So next time I'm in a Crips neighborhood, I am going to have to remember not to wear red (the Bloods gang color is red and the Crips color is blue) AND I will remember not to wear a U.S. Military Uniform. What a shame.
I have seen one of the memos myself in an East Texas National Guard Armory, but I certainly am not going to post the military memo that I saw online, even though it is already public knowledge (I don't want to get in trouble for posting a military security memo) Lucky for me, I do not have to be the one to post the memo online because one worried military wife ALREADY posted one of the Security Threat Memos online for all to see on a military wife forum, Solo-Ops Military Wives Survival Forums.
The following is the security memo that has been posted on this Military Wives Forum and is now public information:
SUBJECT: FORCE PROTECTION ADVISORY TARGETING OF US SOLDIERS BY MEMBERS OF THE CRIPS IN THE CITY OF LAWTON, OK
(U) REFERENCE: ARNORTH FORCE PROTECTION ADVISORY TARGETING OF US SOLDIERS BY MEMBERS OF THE CRIPS IN THE CITY OF LAWTON, OK 0075-11TTA
2. (U) On 21 Sep 11, USACIDC REPORTED THE CRIPS HAVE PUT OUT AN ORDER TO SHOOT ANY SOLDIER IN UNIFORM ON SIGHT IN RETALIATION FOR THE SHOOTING OF THEIR MEMBERS BY SOLDIERS EARLIER IN THE WEEK. THE LAWTON, OKLAHOMA POLICE DEPARTMENT HAS CONFIRMED THE CRIPS HAVE THREATENED TO KILL SOLDIERS IN UNIFORM. THE THREAT STEMS FROM WHEN THE SOLDIERS ENTERED AN OFF-POST RESIDENCE OF THE CRIPS AND SUBSEQUENTLY SHOT MEMBERS OF THE CRIPS. THREE OF THE VICTIMS WERE IDENTIFIED AS MEMBERS OF THE "107 HOOVER CRIPS".

3 (U) IT IS UNKNOWN AT THIS TIME IF THE THREAT POSED BY THE CIRPS TO UNIFORMED SERVICE MEMBERS IS RESTRICTED TO THE CITY OF LAWTON AND FT SILL, OK OR IF IT IS A REGIONAL OR NATIONAL THREAT. EFFORTS ARE UNDERWAY TO DETERMINE THE EXTENT OF THE THREAT TO DOD.

4 (U) THIS EVENT IS DEEMED TO POSE AN IMMEDIATE THREAT TO USAR EQUITIES. COMMANDS ARE RESPONSIBLE TO ENSURE THAT LEADERS AT ALL LEVELS ARE MADE AWARE OF THIS COMMUNICATED THREAT.

5. (U) ALL USAR PERSONNEL MUST REMAIN VIGILANT FOR OUT OF THE ORDINARY OR SUSPICIOUS BEHAVIOR AND REPORT IT IMMEDIATELY TO LOCAL LAW ENFORCEMENT.

6. (U) ACKNOWLEDGE RECEIPT TO THE AR WATCH AT [email protected], 910-570-9751, OR DSN 670-9750/1. REQUEST WIDEST DISSEMINATION POSSIBLE TO COMMANDS, UNITS, AGENCIES, FACILITIES AND PERSONNEL.