Day 3 Update from AG Greg Abbott On ObamaCare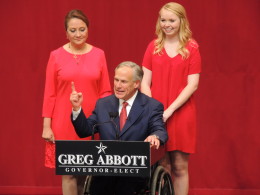 Republican Party of Texas - Texas Attorney General Greg Abbott has recorded a special audio wrap-up for Texas Republicans with the latest on the ObamaCare challenge which was concluded today at the U.S. Supreme Court in Washington, D.C.
Transcript: Hi, this is Greg Abbott coming to you from just outside the United States Supreme Court. We just wrapped up our third day of oral arguments about the ObamaCare lawsuit. Once again it was another great day for Texas and our claims that Congress over-reached their authority. Very powerful comments came from Justice Kennedy today where he frequently returned back to the theme of federalism. As well as his fellow justices agreeing with him that federalism is a fundamental principle that Congress is over-reaching. The feel I got from the arguments today as well as from the entire week and that is the Supreme Court is ready to strike a blow in favor of liberty and put limitations on Congress' power to regulate Texas and other governments around the country. We are now concluding the oral arguments. We will be looking for a decision coming out in the later part of June – hopefully in favor of the state of Texas. We will continue fighting for you, your liberty, your pocketbooks and your taxpayer dollars.