A Day of Important Elections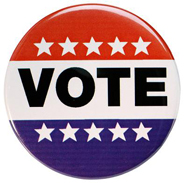 Today is an important day for our country as key states are holding key elections. This day could mark the date that the Republican Party gained its resurgence. According to a Wall Street Journal article,
A Republican sweep in Tuesday's key contests would at minimum show that Democrats face much tougher political terrain than they did a year ago.
CNN Politics reports on ten races worth watching around the country. A few of the key races include:
Houston, Texas, mayor
Why it matters: The nation's fourth-largest city could elect its first openly gay mayor.
What's the story?: City Controller Annise Parker, who has been elected six times to citywide posts, has an even chance of winning, according to polls. Among her competitors are City Councilman Peter Brown and City Attorney Gene Locke.
Considering CNN does even not include Roy Morales in the national spotlight, this should give Republicans even more incentive to get out there and vote for Morales to show the nation that the Republican Party can takeover our fourth largest city!
New York's 23rd Congressional District
Why it matters: A conservative backlash against a moderate Republican candidate propelled this race into national headlines as proof of an ongoing family feud between the far right and moderates for control of the party.
What's the story?: Local Republican leaders picked Dede Scozzafava because of her appeal to centrist Republicans, independents and even some Democrats. But it sparked a conservative revolt, and Conservative Party candidate Doug Hoffman outpolled Scozzafava, forcing her to withdraw. Scozzafava has since endorsed Democrat Bill Owens.
Virginia governor
Why it matters: This race is seen as an early referendum on voters' attitudes toward President Obama and his policies and an opportunity for Republicans to turn back recent Democratic gains.
What's the story?: Obama was the first Democrat to win a presidential contest in Virginia since the 1960s, and the last two governors have been Democrats. Polls show Republican Bob McDonnell with a double-digit lead.
New Jersey governor
Why it matters: A moderate third-party candidate could split the Republican vote and give an unpopular Democratic incumbent a second term.
What's the story?: Gov. Jon Corzine trailed Republican challenger Chris Christie during the summer, but recent polls show them in a dead heat. Growing support for independent Chris Daggett might be siphoning votes away from Christie.
Same-sex marriage vote in Maine
Why it matters: Maine could be the sixth state to allow same-sex marriage if voters uphold legislation signed earlier this year.
What's the story?: When Gov. John Baldacci signed the legislation on May 6, he did so knowing there was a possibility that voters could overturn it. In September, opposition groups delivered the necessary signatures to get a vote. The California Supreme Court allowed same-sex marriage in 2008, but six months later voters approved a proposition to amend the state constitution to ban same-sex marriage.
See CNN Politics for information on additional important elections.