Dick Cheney Endorses Kay Bailey Hutchison for Governor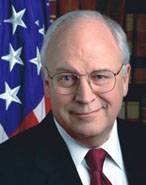 It was just announced that Former Vice President Dick Cheney will endorse Kay Bailey Hutchison in the 2010 Texas Governor's Race, making this her highest profile endorsement so far in her bid to unseat Governor Perry.
The battle for conservative credibility in the GOP race for governor just got interesting.
Former Vice President Dick Cheney, an outspoken critic of all things liberal, is supporting Sen. Kay Bailey Hutchison in the gubernatorial primary against sitting Gov. Rick Perry.
Hutchison campaign aides confirmed the news, and added that Cheney will host a fundraiser for Hutchison next month in Houston.
Hopefully Cheney's endorsement will help confirm that Hutchison is in fact running for governor, as she has been leaving the public wondering lately, "will she or won't she?"
It is also questionable whether Cheney's endorsement will have a positive or negative effect on Hutchison's campaign. On one hand, Cheney left the office with a 19% approval rating, but on the other hand, he has been frequent in his attacks against the Obama Administration, which could help Hutchison score points with conservatives.