Documentary Blames Bureaucracies, Unions on School Failures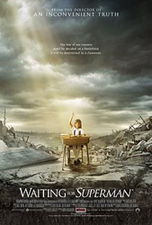 The harsh realities of public education in the U.S. depicted in Waiting for "Superman" (2010) bring to light, not only the importance of school choice, but also the need for parents to take an active role in their children's education.
Liberal documentarian Davis Guggenheim portrays surprisingly conservative views on education, showing the struggles of families vying to get their children out of low-performing schools and into charter schools.
The U.S. is ranked 14th, 17th and 25th in reading, science and math, respectively, according to a study by the Organisation for Economic Co-operation and Development. Despite the efforts made by No Child Left Behind, signed into law nearly a decade ago, our country continues to struggle with raising test scores and keeping retention rates high.
Waiting for "Superman" blames a certain ineptness of our current public education systems on bureaucracies and unions for enacting tenure for teachers, regardless of how incompetent they may be, and notes a parallel between low-performing neighborhoods and schools.
Charter schools, publicly-funded schools operated independently from public school districts, are looked to as the beacon of hope in the documentary–or so it seems. While the charter schools in the film have consistently higher test scores and retention rates, it is really the parents and guardians in the film who prove themselves heroes to children lacking in suitable education.
As much as one can support giving parents a choice of school for their children, we must remember it is ultimately up to parents to use their power to choose. When schools fail due to bureaucratic trifles, overzealous unions, and negligent educators, parents must step in and enact personal responsibility to ensure the future of our country is raised to be accountable and thoughtful adults.