Bill to Encourage Public-Private Partnerships at Ports of Entry Passes Congress, Heads to the President's Desk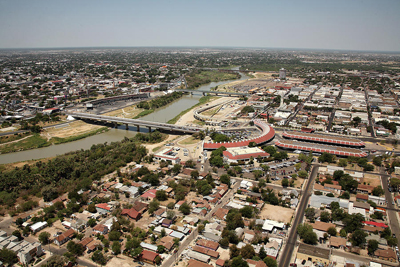 U.S. Senator John Cornyn (R-TX) and U.S. Representative Henry Cuellar (TX-28) released the following statements after their Cross-Border Trade Enhancement Act, legislation promoting public-private partnerships (P3) to boost staffing and make infrastructure improvements at U.S. ports of entry without adding to the national deficit, passed both the House and the Senate:
"In Texas, the overwhelming success of these pilot programs has proven that we can significantly reduce wait times and increase efficiency at our ports of entry," said Sen. Cornyn. "Increasing opportunities for air, land, and sea ports of entry in Texas and across the country to engage in these partnerships will improve commerce and foster a stronger economy locally and nationally. I thank Representative Cuellar for his work on behalf of this bill in the House, and I hope the President will sign it into law soon."
"I thank Sen. Cornyn for his bipartisan approach in working with me to pass this legislation," Congressman Cuellar said. "My district includes the largest inland port in the country. Every day, billions of dollars' worth of goods cross the Texas-Mexico border, including $284 billion in trade at the Laredo Customs District based in my home town of Laredo, Texas, and which extends to the Rio Grande Valley. South Texas is a world leader in trade, and with this bill we will be able to increase the efficiency and amount of trade passing through our ports of entry."
Developed with input from border community leaders and transportation industry stakeholders, the Cross-Border Trade Enhancement Act will give U.S. Customs & Border Protection (CBP) the authority to enter into innovative partnerships with local governments and private sector entities. As federal resources remain scarce, port communities have sought alternate avenues to ensure essential needs are met in the face of continued federal inaction. This authority allows CBP to better leverage limited resources to speed up the flow of traffic at international ports of entry. Partnerships with local governments and the private sector will support improvements to border infrastructure and enhance staffing levels across port environments.
The legislation has been endorsed by: the United States Hispanic Chamber of Commerce; the Border Trade Alliance; the Texas Border Coalition; the Rio Grande Valley Partnership; Cameron County; the City of Eagle Pass; the City of Mission; the City of McAllen; the City of Harlingen; the City of Pharr; the Anzalduas International Bridge; the McAllen-Hidalgo International Bridge; the Pharr International Bridge; the Starr-Camargo International Bridge Company.
After the Senate passed the Cross-Border Trade Enhancement Act last week, the House passed an amended version on Tuesday, and the Senate passed the most current House-amended version this morning.  The legislation will now go to the President's desk to be signed into law.