Congressman Smith: Balance Budget to Secure Our Fiscal Future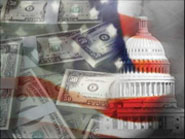 Today I issued a statement in support of the Republican plan to balance the budget by 2023. Budget Committee Chairman Paul Ryan (R-Wis.) today released the fiscal year 2014 House budget resolution. More information about the Republican plan to balance the budget can be found here.
The Republican budget proposal does for the federal government what American families do every day—balances the budget. Hardworking Americans know they cannot spend money they don't have. Unfortunately, the federal government has not been as responsible with taxpayers' dollars.
The President campaigned on a promise to cut the deficit in half. But under President Obama, the deficit has doubled. The federal government now borrows 40 cents on every dollar it spends. No family, no community, no country can sustain that kind of excessive spending. It's the road to bankruptcy.
The national debt is now more than $16 trillion. That number continues to grow with each additional year that we do not balance the budget. The higher our national debt, the heavier the financial burden on American taxpayers. And just like with credit card debt, sooner or later, we'll have to pay up. That means more taxes on hardworking Americans that stifle economic growth and discourage job creation. If we do not rein in government spending, we are at risk of a financial meltdown similar to what we have seen in some European countries.
The federal government needs to set a budget and stick to it. Senate Democrats have not only failed to balance the budget, they haven't even passed one in over three and half years. The Republican Path to Prosperity is a roadmap to a strong fiscal future for our nation. It sets priorities for spending and balances the budget in ten years. This legislation helps keep the American Dream alive by ensuring that future generations of Americans are not buried in debt.