Congressman Tony Gonzales Celebrates USDA Initiative to Reimburse Farmers Effected by Border Crisis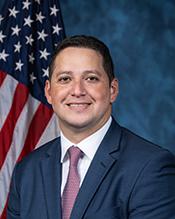 Wednesday, I celebrated the newly announced USDA Natural Resources Conservation Service (NRCS) initiative that offers financial assistance to farmers and ranchers who suffer damages due to the influx of migrants crossing the southern border. Farmers and ranchers in my district have experienced cut water lines, stolen property, broken fences, and other damages as a result of migrants passing through the area.
Eligible counties in Texas' 23rd District include Brewster, Crockett, Culberson, Dimmit, Edwards, El Paso, Frio, Hudspeth, Jeff Davis, Kinney, La Salle, Maverick, Pecos, Presidio, Reeves, Sutton, Terrell, Uvalde, Val Verde and Zavala.
"I hear daily from property owners who have suffered damages due to the border crisis," I said. "These dollars will have real impact to our ranchers and farmers, who have footed the cost of this crisis. This program reflects the results we are delivering for our district, focused on what matters most to our constituents. Providing this relief has been a priority for me and I appreciate my colleagues for joining me in this effort to put our farmers first. Now our farmers will receive the much-needed support and help to combat their losses."
"We understand that the field and farming infrastructure damages along the border are costly and have a negative impact on our natural resources that our farmers and ranchers work hard to conserve," said Kristy Oates, NRCS state conservationist in Texas. "Our field offices are ready to assist eligible producers with technical and financial assistance."
BACKGROUND:
I have introduced two bills that push for reimbursement programs:

RAPID Act (HR 4896):

Repurposes monies from the American Rescue Plan to reimburse producers for damages stemming from illegal immigration

SAFE Act (HR 6120):

Establishes a grant program for familied living along the southern border to strengthen their property's security measures and provide compensation for damages.

Applications will be accepted starting February 16, 2022. The deadline to apply is July 5, 2022 and recipients will be selected by August 5, 2022.

Eligible producers can use the funds for fencing, watering facilities, range planting, livestock pipelines, and more.

Funding is available through the Environmental Quality Incentive Program (EQIP). To apply for EQIP funds, producers should contact their local USDA Service Center
More information on the program can be found here
My district consists of 820 miles of the U.S.-Mexico border, over 40 percent of the total southern border. I am the co-chair of the Texas Agriculture Task Force.