Cornyn Urges Acting DHS Secretary to Prioritize Efficiency of Trade, Travel at Texas Ports of Entry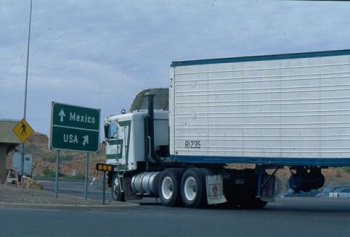 I recently sent a letter to Acting Secretary of Homeland Security Kevin McAleenan urging him to prioritize efficiency at Texas' ports of entry as he develops a strategy to address the humanitarian crisis along the U.S.-Mexico border. Full text of the letter is below.
April 10, 2019
The Honorable Kevin McAleenan
Acting Secretary
U.S. Department of Homeland Security
1300 Pennsylvania Ave. NW
Washington, D.C. 20229
Dear Acting Secretary McAleenan:
I am writing to you today to express my deep concern regarding the ongoing humanitarian and security crisis on our southern border. I share your desire to secure our nation's border and stem the flow of illegal immigration, while also ensuring the free flow of legitimate trade and commerce.
In response to the current situation on our southern border, the Department of Homeland Security (DHS) circulated a memorandum on April 1, 2019, outlining a new operation to address the ongoing crisis. This memorandum directed the temporary reassignment of personnel and resources from across Customs and Border Protection's (CBP) organization (many of which were assigned to southern land ports of entry) to process arriving immigrants and asylum seekers. Many of these officers, who had been working tirelessly to process perishable goods and travelers, have now been faced with managing a national migrant crisis. I strongly agree the current trends at our southern border are unsustainable and I recognize the severe strain this increase in apprehensions and asylum claims has put on our men and women in uniform. While I support CBP's unwavering effort to effectively meet its mandate, I am gravely concerned about the consequences that the recently announced diversion of resources is having on our nation's ports of entry.
As you know, the State of Texas is home to 29 air, land, and sea ports of entry – more than any other state in the nation. Many of these ports of entry, particularly those on our shared border with Mexico, are some of the busiest ports in terms passenger and vehicle processing volume in the United States. The diversion of frontline CBP personnel from these ports, and the threat of a possible closure in the future, threatens to have a debilitating impact on the overall health of Texas' economy. Some Texas ports of entry have reported cross-border wait times in excess of seven hours, resulting in lost revenue and perished goods. In the coming days, many individuals on both the U.S. and Mexican sides of the border will begin to celebrate the Semana Santa holiday, a time of historically increased travel which will result in further strains and likely increased wait times at our most active land border crossings.
As you develop a long-term strategy to deal with the concerning trends on our southern border, I ask that you strongly consider all available options at your disposal to ensure that Texas' ports of entries may operate as efficiently as possible. The legitimate trade and travel coming through those arteries not only impacts the economies of both Texas' border region and state, but also the flow of goods throughout the entire nation. 
Thank you for your continued service to our nation. I look forward to working with you moving forward to address the problems that our CBP personnel continue to face on a daily basis.