Farenthold, Vela Announce M-69 Marine Highway Designation for Gulf Intracoastal Waterway
Designation Will Help Spur Economic Growth for Coastal Region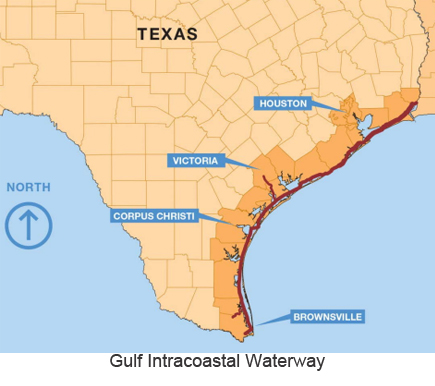 U.S. Representative Filemon Vela, D-Brownsville and I have announced the designation of the Gulf Intracoastal Waterway as M-69 Marine Highway by the U.S. Department of Transportation. The M-69 Marine Highway designation highlights the growing importance of the M-69 route in connecting ports along the Texas coastline.
Re-designating the Gulf Intracoastal Waterway-Texas as the M-69 Texas Corridor brings attention to this waterway as a valuable transportation asset and as an alternative to an already overcrowded highway system.
"Working with Secretary of Transportation Anthony Foxx, Congressman Blake Farenthold and other members of the Transportation and Infrastructure Committee, we secured this important designation that will bring more opportunities to cities, counties and communities along the Gulf Coast of Texas," U.S. Rep. Vela said. "This designation will improve and expand the efficient flow of vehicular and maritime traffic on our roads and at our water ports which in turn will help create jobs and grow our South Texas economy."
The M-69 Marine Highway route includes the Gulf of Mexico, the Gulf Intracoastal Waterway and connecting commercial navigation channels, ports and harbors within the State of Texas. It includes 11 deep-water and 13 shallow-draft ports between Brownsville and Port Arthur, Texas.
M-69 joins a larger interstate network of marine routes, intersecting with M-146 and connecting with M-10 in Port Arthur, which extends and intersects with M-49 in Morgan City, Louisiana, M-55 in New Orleans, Louisiana, and M-65 in Mobile, Alabama.