As Gas and Food Prices See Record Rise, Obama Jets to Rio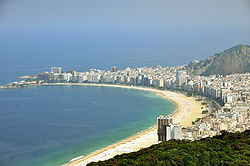 NRCC - The recent spike in gas prices also spread to food prices, which rose 3.9 percent in February, marking the largest gain since November 1974, according to a new report from the Labor Department:
"Wholesale prices jumped last month by the most in nearly two years due to higher energy costs and the steepest rise in food prices in 36 years. Excluding those volatile categories, inflation was tame.
"The Labor Department said Wednesday that the Producer Price Index rose a seasonally adjusted 1.6 percent in February -- double the 0.8 percent rise in the previous month. Outside of food and energy costs, the core index ticked up 0.2 percent, less than January's 0.5 percent rise.
"Food prices soared 3.9 percent last month, the biggest gain since November 1974. Most of that increase was due to a sharp rise in vegetable costs, which increased nearly 50 percent. That was the most in almost a year. Meat and dairy products also rose." 
Offered a chance to lead, Obama instead has done nothing while food prices have spiked.
OBAMA'S PLAN TO STOP SPIKING FOOD PRICES: SILENCE. A search of the White House official Web site yields no results for the term "food prices" posted in 2011. 
Rising gas prices have offered Obama another opportunity to show real leadership by reversing his opposition to domestic oil production, but instead, Obama has chosen to do nothing. Obama's do-nothing strategy destroys jobs and has sparked the ire of energy industry leaders who are suffering under the brunt of Obama's "de facto moratorium".
"One of Louisiana's top oil-industry advocates redoubled his scathing criticism of the Obama administration's energy policy Tuesday.
"The industry is 'under attack' by the president for his refusal to swiftly issue drilling permits and potentially harsher scrutiny of a drilling process known as hydraulic fracturing, said Don Briggs, president of the Louisiana Oil and Gas Association in its annual 'State of the Industry' talk in Houma…
"Two permits to resume suspended projects have been issued, but opponents contend the relative lack of permits has taken a profound toll on the oil industry."
"Gulf state lawmakers and the oil industry have accused the department of dragging its feet on the permits, enacting a de facto moratorium against new drilling, while the department has said it needs to ensure that safety and environmental protections are in place." 
Obama has even upped the stakes for doing nothing to increase American-made energy by authorizing his administration to go to court to challenge a court order to force them to act on drilling permits:
"The Obama administration has fired another shot in the fight over the speed with which the Interior Department is — or isn't — letting oil drillers resume work in the Gulf of Mexico after last year's Deepwater Horizon explosion and oil spill.
"The administration late Friday appealed a judge's orders directing the department to act on several pending Gulf Coast deep-water drilling permits." 
As Americans pay the price for him doing nothing to stop rising gas and food prices, Obama is heading to Rio:
OBAMA WON'T DELAY BRAZIL TRIP FOR GAS PRICE SPIKES, BUT DELAYED ASIA TRIP FOR OBAMACARE: "The crisis in Japan, the unresolved budget wars at home and continuing unrest in the Middle East have raised questions about whether President Obama will continue with business as usual on his trip to Latin America this weekend…
"Still, the White House has canceled Obama's travel plans before for what it considered important domestic affairs. He twice postponed planned visits to Indonesia and Australia last year – first to oversee the passage of the health care bill, and a few months later as the BP oil leak grabbed the country's attention."
BUT OBAMA PLANS TO TOUR RIO DE JANEIRO: "The Obama family will also take in the sights in Rio. A trip to Corcovado mountain, where the Christ the Redeemer statue stands (France gave us Lady Liberty, gave Brazil Jesus) is supposedly on the itinerary."