Here's Why Twitter's Board Hates Elon Musk
No wonder the Twitter board implemented a "poison pill" against Elon Musk. Check out their cushy perks.
The chart below lists the Twitter board members, and their fees paid in cash and stock. Let's say it together: "Leftist Privilege".
These numbers would make Hunter Biden proud.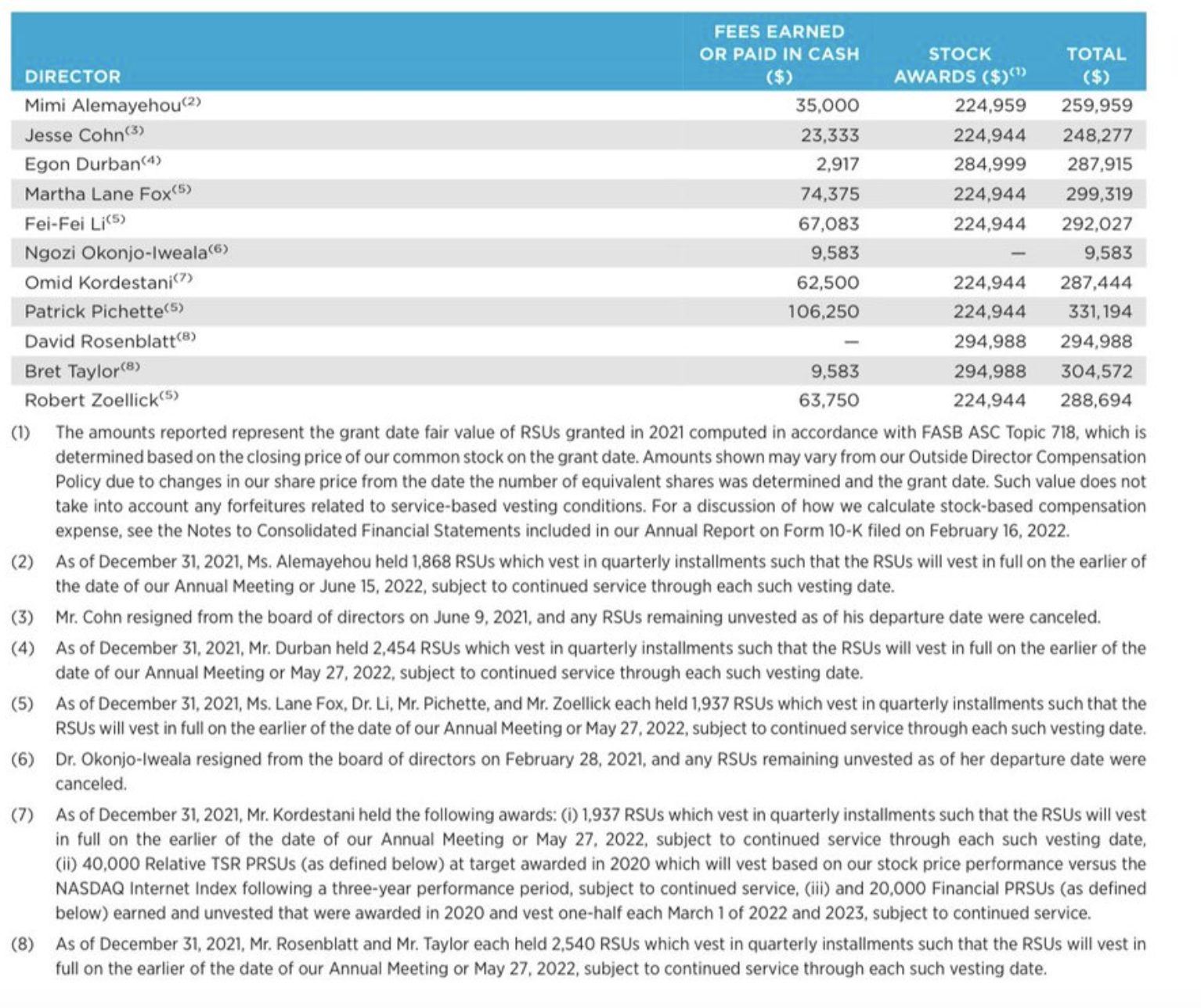 Understand that only one board member, an African got less than $248,000. Do we need to pull the race card on these b*tches? As it turns out, Dr. Okonjo-Iweala resigned from the board last year, or she would have likely cashed in for big money. Was she forced out? Consider that for a moment. An African woman "resigned" from Twitter's board. I'd like more information on this. If there are any investigative journalists out there, why not look into this?
Regardless, look at the rest of these people. How disgusting these elitists are, profiteering from this fake-news social media site. And you can bet that none of these people need this crazy amount of money to do absolutely nothing.
I know, I know…to serve on a board is an honor, and the board helps guide the company through rough waters, blah blah blah. BS. This is an affirmative action board full of "woke" people, mostly hired to pretend to show "diversity, equity, and inclusion" (DEI).
Here's what we ALL know: most of us would have done it for $150,000!
If I were a Leftist, I would undercut other potential board members, and agree to $150,000. Nice job when you consider that you do mostly nothing. Get together in some amazing location, and laugh at the Sodomites who weren't selected. That's what I would do.
Next, I would sit next to Hunter Biden on a board like this and befriend him. I would joke about his crack habit; I'd have him cracking up (pun intended) at himself, as I describe his white-privileged-filled life.
As for the rest of the board, we would discuss how to keep Twitter running like Hitler's war machine. And yes I'd do anything to protect my position. I'd reject Elon Musk's offer, because why give up my cushy do-nothing job.
Perhaps that's why Van Guard just announced they have one-upped Musk. They now own 10.2% of the company, or 82.4 million shares. Of course, they're an investment group. Which means Musk is still the individual with the most shares. The only other individual shareholder in the Top 10 is CEO Jack Dorsey, who checks in at #7.
Now, I'm guessing Vanguard just wants to make a quick buck. Buy in at a lower price, watch Elon take over, cash in the profits. In fact, Vanguard has long held a substantial stake in Twitter, and hasn't ever made a political move with their stock.
However, this revelation forced Musk to acknowledge that his takeover plan could fail. Like I said, no one wants to give up their cushy jobs with too much cash for not near enough work. But there is still a bit of good news floating around. According to Musk, he has a plan B.