Hosting the CB2DC Delegation in Washington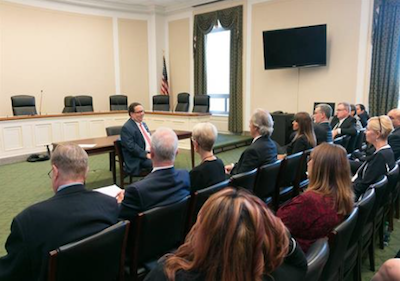 Last week, I had the pleasure of welcoming the annual Coastal Bend to D.C. (CB2DC) delegation to Washington. The delegation was comprised of local elected officials and industry leaders who came to advocate for local businesses, the Port of Corpus Christi, Coastal Bend military installations and more.
Much of my discussion with the group centered on Hurricane Harvey relief and the cooperation between local, state and federal officials. As you know, disaster recovery starts at the local level, directed by mayors, county judges and Governor Abbot's office. We also discussed all the progress that has been made on widening and deepening of the Port of Corpus Christi channel, supporting NASCC and CCAD and economic development throughout the region.
I also arranged for the group to hear from the House Committee on Armed Services Chairman Mac Thornberry, Transportation and Infrastructure Committee Chairman Bill Shuster, Deputy Whip Rep. Patrick McHenry, representatives from Governor Abbott's office and area representatives Henry Cuellar and Vicente Gonzalez.