Hurd Meets with Finnish Delegation on Trade and Security Issues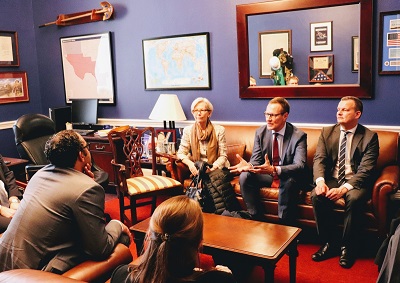 I met with Janne Känkänen, Finnish Under-Secretary of State for International and European Union Affairs, Finnish Ambassador Kirsti Kauppi and other officials from Finland's government. The delegation and I affirmed the importance of the transatlantic alliance and economic ties between the U.S. and the EU. We also discussed cooperation on shared challenges, including relations with Russia and Chinese digital espionage.
In July, Finland is scheduled to take over the rotating presidency of the Council of Europe for the second half of 2019. The country also shares an over 800-mile border with Russia.
Cooperation between the United States and our European allies is essential to continue the decades of peace and prosperity enjoyed by our nations. A key part of this has been our economic ties, and I will continue to work with my colleagues to reverse arbitrary tariffs on our closest allies. We have many shared challenges, from technology and privacy issues to Russian interference in our democratic institutions. Finland is on the frontlines of these issues in the EU, and the only way we will overcome these challenges is through coordinated action and partnership.
This meeting continued my engagement with European officials on shared interests. In April 2018, I visited Brussels, Belgium and met with EU officials about a range of issues, including Russian influence operations, counterterrorism cooperation, cybersecurity, and energy security.