Immigration Reform and the Impact on Children: Town Hall Discussion in Houston on Feb 23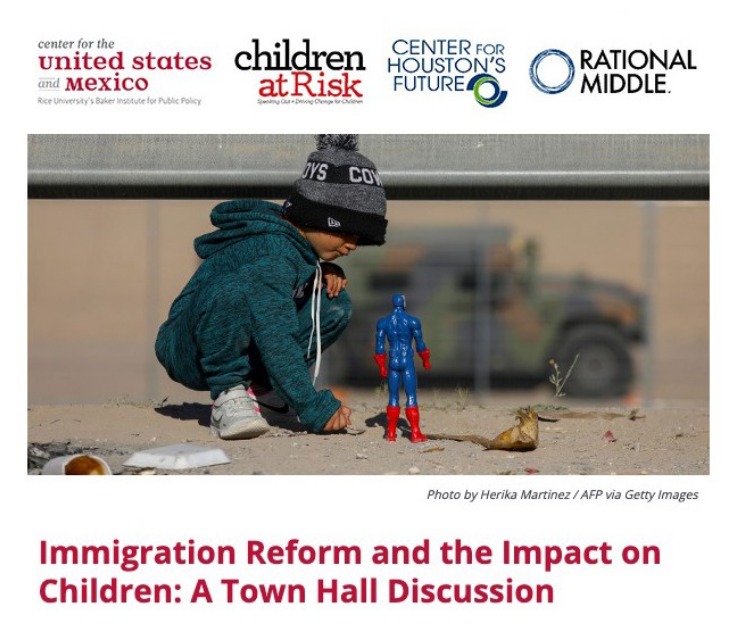 Join a town hall discussion around immigration reform and its impact on children co-hosted by Rice University's Baker Institute Center for the United States and Mexico, Center for Houston's Future, Children at Risk, Lorelle Media and Rational Middle On Thursday, February 23 at 5 p.m at Rice University in Houston. 
Nearly 17 million children in the United States have at least one foreign-born parent who is either a naturalized citizen, a lawfully present immigrant or an undocumented immigrant. These immigrant children are particularly vulnerable and require special protections under U.S. and international law. How do immigration policies impact immigrant children? And what protections do they need?
At this town hall event, a panel of experts will discuss the unique challenges facing these children and their families. They will also consider the effect of U.S. immigration policies on the health and wellbeing of immigrant children, as well as common-sense solutions to address the immigration crisis. Journalist and business owner Linda Lorelle will moderate the discussion and engage the audience in this interactive town hall, where all are invited to ask questions and participate in the dialogue.
Rice University, James A. Baker III Hall, 6100 Main Street Houston, TX, 77005 United States (map)
Register for this free event here