McCaul Champions Initiative to Advance 50 Foreign Policy Solutions in 50 Legislative Days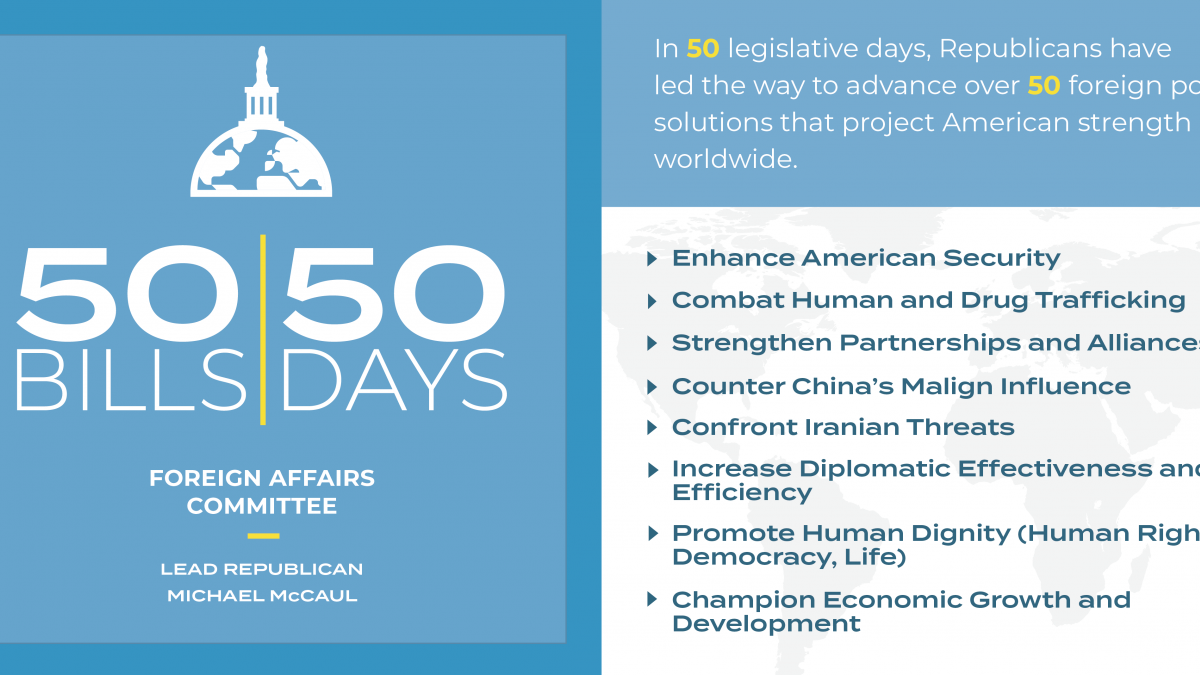 Setting a bold legislative agenda, the "50 in 50" initiative drives thoughtful solutions to project America's global leadership, counter acts of aggression by foreign adversaries, and protect American national security interests at home and abroad.
I announced Tuesday that the House Foreign Affairs Committee's Republican members have introduced over 50 foreign policy solutions in 50 legislative days, setting a bold foreign policy agenda for the 116th Congress. The package of bipartisan bills promotes American interests, strengthens relationships with our allies, counters malign activities, and promotes human dignity abroad. Importantly, it emboldens American leadership in the world at a time of rising competition and growth.
As international challenges evolve and our adversaries seek to gain advantage, the United States' global leadership is more important than ever. In just 50 legislative days, House Republicans have introduced 50 forward leaning, bipartisan policy solutions that will better project American strength worldwide, protect our shared global interests and respond to today's emerging threats. We have worked hand in hand with our partners across the aisle to counter China's malign influence, increase pressure on Iran and North Korea, combat human and drug trafficking, enhance cybersecurity, and counter terror around the world. Lastly, we have promoted solutions that strengthen our relationships with our allies and champion American economic interests abroad. I look forward to continuing to work alongside my friend Chairman Engel and Committee members on both sides of the aisle to advance these shared interests.
For more information on the "50 in 50" initiative, click here.