Moving forward, not back: The U.S.- Cuba relationship
by Ted Poe
on June 19, 2017 at 8:40 AM
---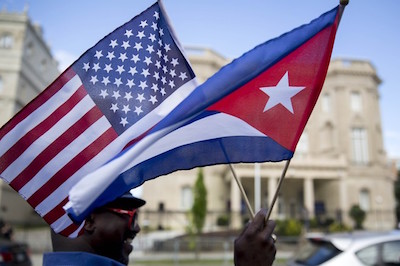 In the coming weeks, President Trump is expected to announce the White House's intentions to roll back our nation's policies on Cuba. The details of what changes will be made are not known, but the potential economic impact could be significant: a $6.6 billion hit. That's meaningful to American companies who have begun to make investments and to American workers and farmers supporting exports to a reopened market. It's time to move forward after nearly six decades of failed policy with Cuba.
In 2014, the U.S. began to peel away failed policies with Cuba that never achieved their objective. This administration should build on the initial successes in order to help American companies access emerging Cuban markets, support a trade relationship that benefits American workers and strengthen issues of national security with a more cooperative and willing party 90 miles off of our shores.
One particular sector that should be expanded upon and not further restricted is agriculture. Currently, U.S. producers are only allowed to export agricultural products to Cuba on a cash-in-advance basis. This makes it virtually impossible for American farmers to sell to Cuba.
This policy is outdated and unworkable. In response, Rep. Rick Crawford (R-Ark.) and I have introduced legislation, the Cuba Agricultural Exports Act, to permanently repeal the cash-in-advance-only system by which farmers, food producers and medical device producers are currently forced to abide. Secretary of Agriculture Sonny Perdue voiced his support for our legislation at his confirmation hearing earlier this year. But there is more the administration can and should do to support U.S. farmers who want to sell to Cuba. If we instead further tighten restrictions on exporting agricultural commodities to Cuba, our economy stands to lose revenue valued at nearly $1 billion.
Aside from bad economic policy, severing relations with Cuba could harm medical cooperation and innovation between our two countries. For example, in October, the Food and Drug Administration approved the first clinical trial to test Cuba's lung cancer vaccine, which stemmed from the partnership between Buffalo's Roswell Park Cancer Institute and Cuba's Center of Molecular Immunology. In addition, the Department of Health and Human Services and Cuba's Ministry of Public Health entered into an agreement to help promote medical cooperation, research and innovation between the two nations. This helped pave the way for Texas-based Mercurio Biotec to import a drug to treat diabetes patients in clinical trials.
Since 2014, when the U.S. changed its policies with Cuba, cooperation and dialogue began between several U.S. government agencies and the Cuban government to combat drug trafficking, human trafficking, cybercrime and other issues vital to our national security. In fact, U.S. and Cuban officials met earlier this year to sign a memorandum of understanding on law enforcement cooperation between the two countries that stated their intentions to prevent, intervene, monitor and prosecute human trafficking. We have also had progressive talks regarding collaborative counter-narcotics operations.
The Caribbean Sea is one of the main drug trafficking highways in our region, and Cuba's intense anti-narcotics presence in the area and communication with the U.S. Coast Guard has prevented many drug traffickers from reaching U.S. shores. In 1996 alone, U.S.-Cuban cooperation led to the seizure of more than 6.6 tons of cocaine aboard a Miami-bound Honduran ship. Cuba seized the cocaine and then promptly turned it over to U.S. officials. Since beginning the process toward normalizing relations in 2015, our anti-drug collaboration has only increased, with several meetings regarding the issue having taken place. To simply ignore issues like this in an empty attempt to punish the Cuban government — after 55 years of failed U.S. policy — is mind boggling.
Critics of furthering relations with Cuba often state that allowing American travelers to visit Cuba directly benefits the Cuban military because of its involvement in the nation's tourism sector. This assessment discounts the tremendous support American travelers have provided to Cuban entrepreneurs who have no affiliation with the military. It also understates the impact that Americans can have in Cuba when allowed to visit and engage with Cuban citizens. Allowing American travelers to visit Cuba to spread American ideals can only help advance our values.
It may seem politically expedient to take a step back, rather than forward. However, the majority of Americans are in favor of opening relations with Cuba, and for good reason. I call on the president to listen to the will of the American people and the pleas of American farmers and continue to strengthen relations between our two countries.
And that's just the way it is.
This article was originally published on The Hill.