NRA Blames Staffer for Controversial "Open Carry" Statement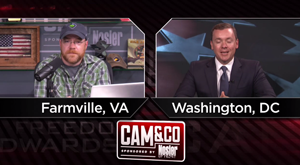 The National Rifle Association has rolled back an earlier statement criticizing "open carry" rallies in Texas in which gun rights advocates have brought military-style assault rifles into public places.
The NRA-ILA's Chris Cox says the original statement criticizing long gun open carry was a personal opinion made by a staffer, and is not the official position of the National Rifle Association: Cox, the executive director of the group's lobbying arm, says the staffer's reference to open carry as 'weird' or somehow not normal, was a mistake. It shouldn't have happened," said Cox, who added that the group "unequivocally" supports open carry laws.
The staffer made the statement after the controversial actions of a Texas Open Carry group which came under fire for open carrying long guns into privately owned eating establishments.
Their actions prompted the business owners, which had no previous gun restrictions on their property, to change their position and ask customers to keep guns out of their establishments because the presence of rifles was intimidating customers and they were losing business.
I support Constitutional Carry. I open carry often. I do NOT, however, carry rifles in businesses. I don't feel the need to do so. It is not something I have ever even considered.
That being said, I refuse to speak out against fellow 2nd Amendment advocates and THEIR decision to do what they did in Texas. We have enough enemies out there as it is without dividing our base.
Besides, I think those guys have already taken a public beating from liberals as well as gun owners. No need to beat a dead horse. I'm just glad the NRA clarified its position on the issue.
---
To read more articles by Jan Morgan, check out JanMorganMedia.com.