Oilfield Engineer Ryan Sitton Enters Crowded Field in Race for Texas Railroad Commission
by Bob Price
on September 26, 2013 at 10:06 AM
---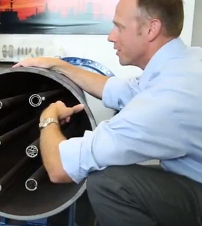 Houston oilfield engineer and small business owner, Ryan Sitton, announced his campaign for the Texas Railroad Commission this week in Houston. Sitton enters a crowded field of candidates running to fill the seat vacated by Commission Chairman Barry Smitherman, who is now running for Texas Attorney General.
Sitton will campaign on the issues of technical experience and the conservative leadership that is so critical right now for our states energy regulatory commission. Sitton is the only candidate currently in the race who lives and works in the Houston metropolitan area and has put together the funds and resources necessary to run a statewide campaign.
"Our energy industry is booming and that prosperity should continue," said Sitton. "Im running because Im a conservative businessman. I pledge to stand up for all Texans and push back on the present and constant intrusion of federal regulatory agencies. I joined this race to provide a unique vision of technical competence, efficient management, and uncompromising customer service to both the industries and the taxpayers of the State of Texas."
Sitton is the co-founder and CEO of PinnacleAIS, an oil and gas industry engineering and technology company based in Pasadena, Texas that employs more than 300 people. Inc. Magazine recognized PinnacleAIS in 2012 and 2013 as one of the top 1,500 fastest-growing, privately held companies in the world.
Sitton is considered a leading expert in his field, consulting for a wide range of oil and gas companies, spanning from independent producers to some of the worlds largest oil and gas companies. In addition to his role as CEO of PinnacleAIS, Sitton regularly represents the oil and gas industry in litigation as an expert witness, fighting back against trial lawyers and unreasonable regulations by the EPA, OSHA and other over-reaching federal bureaucracies.
He is an active member of several industry groups, including the Texas Alliance of Energy Producers (TAEP), American Society of Mechanical Engineers (ASMA) and the American Petroleum Institute (API).
Sitton and his wife Jennifer have been actively involved in Republican campaigns and have consistently contributed their time and resources to pro-life, free market, and 2nd amendment causes. He is an active member of the Galveston County Republican Party and serves on the Board of Directors for the Associated Republicans of Texas, Texans First and the Pasadena C-Club.
With the oil and gas industry playing such a major role in the Texas economy, it is critical that the Railroad Commissioner be someone with experience and understanding of issues Texas business owners face as they seek to grow their business and lead Texas to energy independence. TexasGOPVote will take a very close look at this race and will bring you more information about candidates and issues related to this race.