Reps. Culberson and Wolf Reintroduce the Space Leadership Preservation Act (H.R. 823)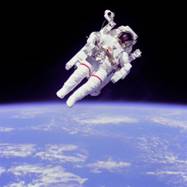 Congressman John Culberson (TX-07), Congressman Frank Wolf (VA-10), Congressman Gene Green (TX-29), Congressman Pete Olson (TX-22), and Congressman Bill Posey (FL-08) reintroduced the Space Leadership Preservation Act (H.R. 823), legislation that will change business as usual at NASA and result in a more stable and accountable space program. The Space Leadership Preservation Act will help preserve and protect our leadership in the exploration of outer space and the high ground of the future.
Over the last 30 years, NASA programs have been cancelled due to cost-overruns, mismanagement or abrupt program changes at the start of each new administration. In the past 20 years alone, 27 programs have been cancelled resulting in over $20 billion wasted on uncompleted programs. Our space program is too important to continue on this path. The Space Leadership Preservation Act creates a 6-year term for the NASA Administrator to provide a stable leadership structure at NASA so that decisions are made based on science and are removed from the politics of changing administrations.
The Committee on Science, Space, and Technology's Subcommittee on Space will hold a hearing to review the legislation. Reps. Wolf and Culberson worked closely with Science Committee Chairman Lamar Smith (TX-21), a co-sponsor of H.R. 6941 in the 112th Congress, and Science Committee staff to improve the legislation ahead of Wednesday's hearing and look forward to working further as the Science Committee prepares to reauthorize NASA later this year.
"These reforms will save money and help the NASA budget go farther in tough times, but more importantly, we hope to restore the NASA we knew when we were young and America landed the first man on the moon," said Rep. Culberson, member of the Commerce-Justice-Science Subcommittee which funds NASA. "Visionary NASA scientists, engineers, and astronauts will inspire future generations by their continuing mission: to explore strange new worlds, to seek out new life and new civilizations, to boldly go where no one has gone before."
"The U.S. enjoyed 40 years of unquestioned dominance in space, but the 21st Century has already seen increased competition from other countries, including those that don't share our democratic institutions or values – like China," said Rep. Wolf, Chairman of the Commerce-Justice-Science Subcommittee. "This status quo has to change, and the Space Leadership Preservation Act is our effort to start a national conversation on this very necessary reform effort. Our bill gets America back on the road to being a leading competitor in the next space race by outlining a leadership structure to develop a bold, strategic and long-term direction for the future of NASA and U.S. space exploration."
Rep. Gene Green issued the following statement of support. "I am pleased to join Rep. Culberson and Rep. Wolf in introducing this legislation. We need to do more to ensure that NASA is free to pursue maintaining America's preeminence in space exploration. For too many years and through too many administrations, NASA has been mired in political delays and been weighed down by ambivalence and indecision. False starts and delays have cost us too much and this bill provides an interesting approach to start the conversation on how to best reform the administration of the agency."
"The Space Leadership Act is a common sense solution to a problem that has plagued NASA for decades. Space exploration should not be subject to political whims of either party, but based on scientific discovery and the pioneering efforts that have made America the global leader in space," said Rep. Pete Olson, Representative of Johnson Space Center, Texas for the last four years.