Solution to Title 42 Chaos Requires Sensible Bipartisan Immigration and Border Legislation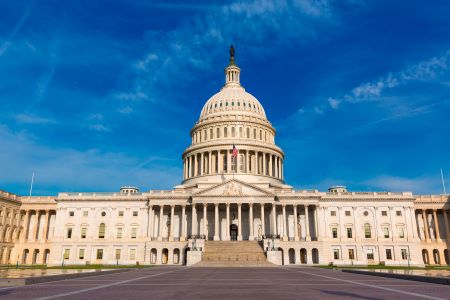 Border chaos associated with Title 42 ending Thursday is the result of lawmakers failing to pass bipartisan immigration reform for decades. The only people who benefit from the chaos at the border are politicians making broken campaign promises and the cartels.
If Republicans and Democrats can't agree on immigration reform, how many border patrol agents to authorize, and how many miles of wall to build, they should at least be able to pass a bill to provide more immigration judge teams. This would help to improve border security by allowing asylum seekers at the border to have their cases  resolved more quickly. 
Allowing migrants to have their asylum cases resolved quickly, instead of waiting around inside or outside the US for years without a hearing, will encourage those who are not eligible for asylum to go home instead of crossing the border multiple times and draining federal resources.
Tuesday, Republican Representative Tony Gonzales (TX-23) called for more immigration judges in response to the Biden Admin sending 1500 US troops to the border in advance of the end of Title 42.  
"It's the wrong approach. President Biden should be sending 1500 immigration judges to the border, not US troops. These immigration judges should get these people who are coming over legally and get their cases heard in days, not years, and if you don't qualify for asylum, which right now it's nine out of ten people, you should be sent back to your country of origin. The same thing happened in Del Rio a year and a half ago with the Haitians under the bridge. That stopped after the Biden Administration started enforcing the law and sending folks back to their country of origin," said Gonzales, who has co-sponsored bipartisan and bicameral legislation to provide more immigration judges with US Senator John Cornyn of Texas.
Lawmakers should also make it more possible for migrants to have asylum or refugee cases processed outside the US. Creating a "line" for asylum seekers and refugees to wait in outside of the US would provide them with an alternative to showing up at the border.
Increasing the number of worker visas would also help to decrease traffic at the border. While the US economy is suffering from inflationary workforce shortages in critical industries including construction, agriculture, and food processing, there are almost no legal pathways for economic migrants who lack higher education or a lack a family member in the US to enter the US legally and fill those jobs. Creating a legal immigration "line" for these folks to get in would decrease traffic at the border and benefit our economy.
Although more border and immigration related solutions are needed, if lawmakers could at least find the bipartisan consensus to pass the solutions above, it would help to reduce chaos at the border, and ultimately improve border security by allowing border patrol to focus on doing its job of preventing drug smuggling and illegal immigration instead of babysitting families.
A border security bill that House Republicans passed Thursday, but that is not likely to garner the bipartisan support necessary to pass the Democrat-controlled senate in its current form, would implement mandatory use of E-verify on all US employers. Given the current unprecedented level of US labor shortages, E-verify would almost certainly lead to a recession by removing millions of workers who lack legal status from the workforce, unless it is coupled with an ID and Tax policy that provides a method for those workers to earn work permits.  
Senator Cornyn called the bill "a welcomed starting point for the Senate to begin discussing border security and enforcement legislation." I hope and pray that the Senate will finally get to work on fixing our outdated and failing immigration system.