Water Infrastructure Improvements for the Nation Act Passes House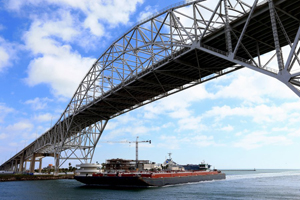 The Water Infrastructure Improvements for the Nation (WIIN) Act passed the House 360-61.
American ports are the backbone of our economy, with ninety-nine percent of our overseas cargo moving through our ports and more than seventy-six thousand jobs in the 27th District of Texas alone directly impacted by port activity. That's why I authored language in the WIIN Act designed to improve our nation's infrastructure.
The WIIN Act designates that multiphase projects, such as the Corpus Christi Ship Channel Improvement Project (CIP), previously fully authorized and underway would not require a "new start" or "new investment" decision to continue work on separable elements.
It would also authorize feasibility studies for water projects across the nation, including the Port of Corpus Christi, Port of Bay City, Gulf Intracoastal Waterway and more. Removing these burdens and conducting these studies will allow American ports and infrastructure projects to continue projects in a timely manner, putting Americans to work and creating greater economic opportunities.
I have fought to improve the nation's ports and have worked regularly with the Army Corps of Engineers urging them to prioritize projects like:
o   Widening and deepening the Corpus Christi Ship Channel (the "Main Channel") from 45' to 52' and construction of barge shelves;
o   Operation and maintenance for the Matagorda Ship Channel, including jetty repair;
o   Additional permits for repairs for the Port of Victoria;
o   Varies constituent concerns regarding permitting and operations.
I have fought to include the "new start" language in the appropriations process so that projects already underway, like the channel, would not have to re-enter a competitive process with other projects for funding.