Why is "Gay Rights" Becoming a Pivotal Issue in the Immigration Reform Debate?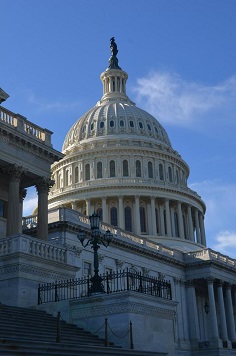 This morning, while reading the news about the Supreme Court (SCOTUS) decision overturning parts of the Defense of Marriage Act (DOMA), I received a "National Action Alert" from the non-partisan organization, National Write Your Congressman (NWYC), about "Gay Rights" becoming a new, devisive issue in the debate over increasing border security and reforming our broken immigration system.  
Is this really an issue that should be included in this debate that is important to both to our economic needs and our national security?  Or, rather, is this yet another gimic by Democrat groups to make certain that Republicans will not support the Gang of Eight bill sponsored by FL Senator Marco Rubio?
Please take a look at this alert and click the link below to vote on the issue and send a message to your elected officials.
The Issue: President Obama and many Democrats supported a proposal that would have ensured that gay/lesbian couples would receive equal treatment under new immigration legislation. The issue is expected to resurface in the future.

The Controversy: While the Democratic Party's stance is to ensure that gay rights are protected under any immigration overhaul law, the Republican Party's position is that it will not support legislation that addresses those rights.
Click Here for ballot.
The Story – A Minefield in the Passage of Immigration Policy
The unexpected issue of gay rights sparked disagreements in the congressional debate over immigration reform, with key Republicans saying they would not vote for a bill that contained a proposal that would ensure that same sex couples were able to sponsor their bi-national partners. Currently, only married heterosexual couples can sponsor their spouses. As lawmakers engaged in heated debate over President Obama's proposal to allow such rights, Democrats agreed to withdraw their amendment. But the issue is likely to return to the forefront in the future. The proposal would affect 30,000 to 40,000 gay Americans and their partners.
Republicans Say …
Sen. Lindsey Graham (R-SC) "Immigration is hard enough. Let's not go down the road of redefining marriage."
Sen. John McCain (R-AZ) "I'm telling you now, if you load this [immigration reform legislation] up with social issues and things that are controversial, it will endanger the issue."
Sen. Marco Rubio (R-FL) "I think if that issue [gay rights] becomes a central issue in the debate it's going to become harder to get it done because there will be strong feelings on both sides." 
Democrats Say …
Rep. Jerrold Nadler (D-NY) "Today, thousands of committed same-sex couples are needlessly suffering because of unequal treatment under our immigration laws, and this is an outrage. …Any serious legislative proposal for comprehensive immigration reform absolutely must include gay and lesbian couples and their families."
When Sen. Patrick Leahy (D-VT)  withdrew his amendment to support gay rights, Sen. Dick Durbin (D-IL) applauded his efforts. He said, "I believe in my heart of hearts that what you're doing is the right and just thing. But I believe this is the wrong moment, this is the wrong bill."
Should same sex couples be allowed to sponsor their partners?
Do you feel it should be part of the immigration reform measure now moving through Congress? 
(Click Here to voice your opinion)