Workforce Development Priorities and Farm Bill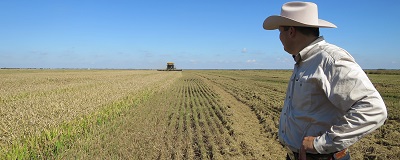 With House passage of the Agriculture and Nutrition Act of 2018, I released the following statement: 
The Tax Cuts and Jobs Act has helped bring about the lowest unemployment rate since December 2000, but even with more jobs being created, many Americans are still sitting on the sidelines. In fact, we've moved from asking "Where are the jobs?" to "Where are the workers?" 

This bill provides common-sense and proven work requirements as part of eligibility for SNAP benefits, encouraging self-sufficiency. Furthermore, this bill supports our rural communities by strengthening the agriculture safety net for our farmers, ranchers and foresters while also providing significant new investments to broadband infrastructure.

WORKFORCE DEVELOPMENT PRIORITIES: Gives Americans the opportunity to train for good-paying jobs and end their dependence on the federal government. Requires able-bodied adults on welfare to work, train or volunteer 20 hours per week to receive benefits. Provides fully-funded, guaranteed Employment & Training slots for work-capable adults. Potentially 670,000 work-capable Texans will reenter the workforce. Prioritizes broadband access and infrastructure in struggling rural areas to promote jobs and economic activity. 

AGRICULTURE PRIORITIES: Helps new farmers and ranchers by enhancing access to credit and establishing a scholarship at 1890 Land Grant institutions. Establishes a new National Animal Disease Preparedness and Response Program to protect the health of the nation's livestock. Encourages proper management for healthy and productive Federal, state and private forests. Maintains and improves crop insurance which is critical to the agriculture industry. Prioritizes working-lands conservation through the Environmental Quality Incentives Program. Strengthens the agriculture safety net and provides vital tools for trade promotion and market development. Maintains legal authority to provide assistance to farmers and ranchers affected by unfair foreign trading practices. 

LIST OF SUPPORTERS: 
The White House 
American Farm Bureau 
National Cattleman's Beef Association 
National Grocers Association 
Public Lands Council 
Americans for Tax Reform 
Freedom Works 
Foundation for Government Accountability 
American Enterprise Institute 
Texas Cattle Feeders Association 
Texas & Southwestern Cattle Raisers Association 
Texas Farm Bureau 
Plains Cotton Growers 
South Texas Cotton & Grain Association 
Texas Cotton Ginners Association 
Texas Pork Producers Association 
Texas Wheat Producers Association 
Texas Forestry Association 
Western Peanut Growers Association 
Texas Grain Sorghum Association 
Select Milk Producers 
Texas Corn Producers Association 
Texas Poultry Federation 
Texas Wine and Grape Growers Association 
Texas Association of Dairymen 
Texas Citrus Mutual 
Texas International Produce Association 
Texas Vegetable Association 

CLICK HERE to learn more about the Agriculture and Nutrition Act of 2018.