Reps. Gonzales, Langevin, Espaillat and Amodei Introduce Legislation to Support Teachers and Prepare English Learners for Success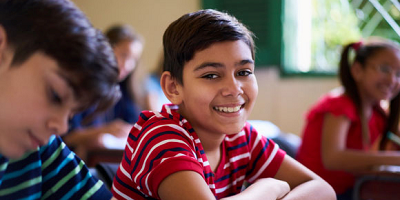 Congressmen Jim Langevin (D-RI-02), Adriano Espaillat (D-NY-13), Mark Amodei (R-NV-02) and I introduced bipartisan legislation to better prepare teachers for more effective and appropriate education for English Learners (EL) students. Companion legislation will be introduced in the U.S. Senate by Senators John Cornyn (R-TX) and Catherine Cortez Masto (D-NV).
The Reaching English Learners Act establishes a grant program for institutions of higher education to partner with high-need school districts to develop teacher training programs that will eliminate the achievement gap, address the unique needs of EL students, and effectively instruct ELs with disabilities. It also encourages aspiring EL teachers to incorporate family and community engagement into their curriculum and ensures they undergo high-quality clinical experiences as part of their training.
With over one-third of the children in my district speaking a language other than English at home, our schools need to be properly equipped with enough teachers that can teach English as a Secondary Language (ESL) students. Expanding access to this resource for our students creates a better education and an easier time at school for children of all backgrounds.
"Nearly 1 out of every 10 kids in Rhode Island public schools is an English learner, yet we have far too few teachers who are specifically trained to support this growing community of students," said Congressman Langevin. "Every child deserves the opportunity to live up to their full potential, which is why I'm so proud to introduce this legislation alongside my Democratic and Republican colleagues to invest in our teachers and eliminate the achievement gap between English learners and their native English-speaking peers."
"This has been an unprecedented year for students across the country whose adoption of remote and virtual learning has disproportionately impacted minority and English Learners (EL) at all stages of the education system," said Congressman Espaillat. "ELs and their families and teachers have seen and understand the learning loss and widening achievement gap that has been exacerbated by COVID-19. To make sure that as the nation re-opens and ELs returning to the classroom have the support of qualified educators, I am proud to join my colleagues introducing the Reaching English Learners Act. It is imperative to support specialized teacher training programs in every way possible to ensure the strength and ability of the future generation of American students."
"With a state as diverse as Texas, it's absolutely critical that our educators are equipped to meet the needs of all Texans, but particularly those who face the extra challenge of learning English in addition to their studies," said Senator Cornyn. "This legislation will ensure that teachers have the tools and expertise to empower English learners with the skills they need to succeed alongside their peers, and I'm proud to join Sen. Cortez Masto in introducing this crucial bill."
"Language should not be a roadblock to accessing a strong public education in America. As we recover from the COVID-19 pandemic, we must make sure we are reaching every student, and that means educators who can address their specific language learning needs," said Senator Cortez Masto. "I've introduced this bipartisan bill to address the critical English language teacher shortage in Nevada and help make sure that English learners have everything they need to learn on an equal footing with their peers."
The achievement gap between the 5 million English learners in the U.S. and their native English-speaking peers is one of the widest in the country. According to the Department of Education, only 67 percent of EL students graduate high school in four years, compared to the national four-year high school graduation rate of 84 percent. Moreover, 72 percent of EL eighth graders scored "below basic" on reading proficiency, compared to 24 percent of non-ELs, and 72 percent of EL students scored "below basic" in math proficiency, compared to 28 percent of non-ELs.