Texas Attorney General Greg Abbott Sets Goal to Make Texas #1 in Education - Exclusive Video Interview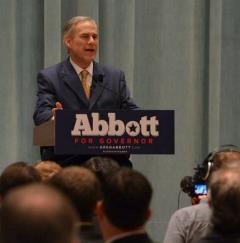 When our leaders set lofty goals it creates a pathway to achievement. Over fifty-two years ago, President Kennedy set a goal for our nation of sending a man to the moon and returning him home safely by the end of that decade. People united behind that goal, including a large community of Texans at the NASA Manned Space Flight Center in Houston. By the goal deadline (the end of that decade) four American men had walked on the moon and returned safely home.
Last week in Houston, Texas Gubernatorial Candidate Greg Abbott set another "audacious" goal for Texans to achieve. In a speech to the Houston Realty Business Coalition (HRBC), Abbott pledged to "make the education system in the state of Texas the number one education system in the United States of America."
After Abbotts speech before the HRBC, I sat down with him to discuss these goals and how he would develop the policies to make these goals become a reality. Because my daughter is a school teacher, this topic hits very close to home.
"Like your daughter, my wife has been both a teacher and a principal," Abbott began to explain, "and weve seen the powerful effect that education can have in the life of a child. You can take a child who through education can go on and achieve things their parents couldnt even dream of, and Texas has to do a better job of educating our next generation. My goal is simple. Its audacious. Its something I think people havent talked about before. My goal is to make the education system in the state of Texas the number one education system in the United States of America. We see all these rankings about college football teams. I want to see rankings about high school students in the state of Texas, and I want to see them ranked number 1 among high school students and junior high school students in the United States of America."
The first phase of this policy initiative will be for General Abbott to begin hosting a series of round-table discussions where he will learn about the concerns of teachers, administrators, and parents.
"Pretty soon," Abbott explained, "were going to be rolling out more specifics about how we will be achieving that lofty goal, but I think an important step along that pathway is to talk to the people that are on the front lines who are involved in this process. To do that, I am traveling across the entire state of Texas talking to teachers, to principals, to superintendents, to the people who are on the ground working day-to-day to educate our students, and then maybe talking to the most important people involved in this process and that is parents. One thing we have to do a better job of is engaging parents more because if theres one thing that pays the highest dividends in educating a child, its parental involvement. If we can get parents more involved and get government off the backs of teachers, have strong effective principals in schools, the sky will be the limit to what we can achieve to improving education in Texas."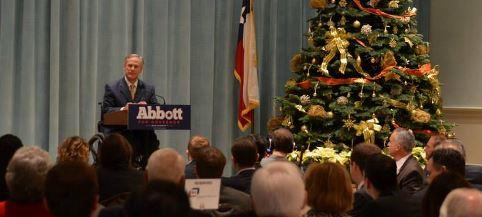 Texas Attorney General Greg Abbott speaks to HRBC about education goals
In addition to our public schools, Abbott is also setting some "audacious" goals for higher education as well. "Texas has four Tier One universities" Abbott stated. "Theres University of Texas, Texas A&M, Rice, and University of Houston. California has nine. New York has seven. Listen, Texas is better than California or New York. We should have more Tier One higher education institutions than those states. One of my goals as governor is to have more Tier One universities so that Texas is leading the way nationally and internationally in producing students who graduate from our higher education institutions." 
A large concern in the business community is that we are not producing enough workers in skilled labor. To do this, we must get past the notion that all children must be taught to go to a four year university. Skilled labor is honorable work, and our children who have the desire for this need to have a viable education path to obtain the skills necessary to become productive workers in these career fields. It is essential that we create a sustainable workforce and a secure career path for our young people.
Abbott acknowledged that the need for that may be illustrated right here in Houston where a huge construction boom in underway. "The issues I hear from employers here," Abbot recounted, "is they do not have the skilled quality workforce they need coming out of school to actually go into some incredibly high-paying jobs. We started working on that last legislative session but it needs to be continued on, improved, and altered even more. We need to focus on helping educate students in the high school level to be career-ready."
"Listen," Abbott said, "going off to a four-year higher institution education and majoring in English is right for some people but not right for everyone. We can prepare students for the careers, for the high-paying jobs here in the greater Houston area and go straight there from high school making a lot of money for their family, making them happy, contributors to the tax base in the state of Texas."

"Another pathway," Abbott continued, "is we have so many excellent community colleges, two-year education programs that will provide education over and above what they learned in high school, preparing students to receive a certificate to be qualified to go into a specialty area in one of the trades here in the Houston area. We have to pursue and expand on these pathways. If were going to have the workforce that we need to continue to grow the job market in the great state of Texas."
During the last legislative session, there was much focus on the controversial education programs known as CSCOPE and Common Core. In true Abbott style, the General addressed these issues head on. "In the coming years," Abbott firmly stated, "Common Core is not going to become an issue because as governor, I am not going to allow Common Core in Texas. CSCOPE, I will drive a stake through the heart of CSCOPE, and ensure that neither CSCOPE nor Common Core have any level of threat or viability in the state of Texas. I know that principals, teachers, parents, here in the state of Texas know far more how to educate our students than do these bureaucrats in Washington, D.C."
Abbott pledged to come back to TexasGOPVote and discuss the results of what he learned from the upcoming round-table discussions. I am certain he will have a lot to say.