This Week In "You Can't Make This Up" Department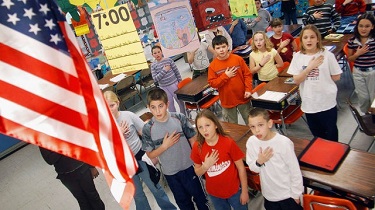 It is important for us to be vigilant observers of our deteriorating culture and disappearing traditional principles this nation was founded on. The latest insult to this is found in Springfield, Pennsylvania where an elementary school principal was ordered by educrats to stop singing God Bless America after the Pledge of Allegiance. This stupid order occurred as the school district was threatenend by an atheist group with a lawsuit. What the district should have done is say, "stuff it" and invite the lawsuit.
I am wondering, are you as tired as we are at TCR that one U.S. District Judge out of the entire country can issue a nationwide injunction? This is a judiciary run amok and interfering with the other branches of government. These issues are generally solely not related to litigation in the particular District Court's district. Vice President Pence recently laid it out as follows:
"These orders are issued by federal district court judges on a broad range of issues - from national security to immigration, from border security to healthcare reform. And these orders prevent the entire Executive branch from enforcing a statute, a regulation, or a policy on a nationwide basis. And they apply everywhere, to everyone..."
"It's remarkable to think a Supreme Court justice has to convince four of their colleagues to uphold a nationwide injunction, but a single district court judge can issue one, effectively preventing the duly elected President of the United States from fulfilling what he believes is a constitutional duty.
"This era of judicial activism must come to an end... In the days ahead, our adminstration will seek opportunities to put this very question before the Supreme Court."
Originally Published on Texas Conservative Review