Pfluger Resolution Exposes Democrat Natural Gas Tax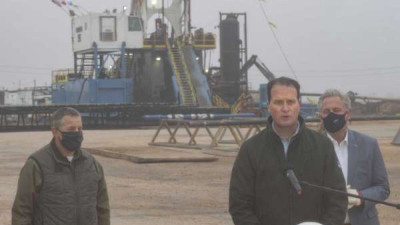 I recently led eighty of my colleagues in introducing a resolution to expose the natural gas tax that Congressional Democrats are proposing.
Congressional Democrats are pushing a natural gas tax that will reduce our GDP by $9 Billion, kill at least 90,000 jobs, and raise energy bills for all Americans. President Biden's out-of-control spending is already driving up prices on everything—from the grocery store to the gas pump—while causing our national debt to skyrocket. Now, Democrats are desperately searching for new ways to squeeze even more money out of the American people to pay for their big-government programs. A natural gas tax is a tax increase on every single American that will disproportionately harm working families, farmers and ranchers, and our energy producers in the Permian Basin.
Pfluger's resolution is co-sponsored by Representatives Michael C. Burgess, M.D. (TX-26), Michael Cloud (TX-27), Dan Crenshaw (TX-02), Gary Palmer (AL-06), Robert Aderholt (AL-04), French Hill (AR-02), Steve Womack (AR-03), Rick Crawford (AR-01), Debbie Lesko (AZ-08), Doug LaMalfa (CA-01), Jay Obernolte (CA-08), Doug Lamborn (CO-05), Lauren Boebert (CO-03), Gus Bilirakis (FL-12), Buddy Carter (GA-01), Andrew Clyde (GA-09), Rick Allen  (GA-12), Austin Scott (GA-08), Mariannette Miller-Meeks (IA-02), Russ Fulcher (ID-01), Mike Bost (IL-12), Greg Pence (IN-06), Tracey Mann (KS-01), Jake LaTurner (KS-02), Brett Guthrie (KY-02), Clay Higgins (LA-03), John Moolenaar (MI-04), Tim Walberg (MI-07), Tom Emmer (MN-06), Jim Hagedorn (MN-01), Pete Stauber (MN-08), Ann Wagner (MO-02), Richard Hudson (NC-08), Ted Budd (NC-13), Dan Bishop (NC-09), Kelly Armstrong (ND), Claudia Tenney (NY-22), Chris Jacobs (NY-27), Bill Johnson (OH-06), Bob Gibbs (OH-07), Troy Balderson (OH-12), Robert Latta (OH-5), Markwayne Mullin (OK-02), Tom Cole (OK-04), Stephanie Bice (OK-05), Dan Meuser (PA-09), Fred Keller (PA-12), John Joyce (PA-13), Guy Reschenthaler (PA-14), Glenn Thompson (PA-15), William Timmons (SC-04), Joe Wilson (SC-02), Jeff Duncan (SC-03), Louie Gohmert (TX-01), Van Taylor (TX-03), Pat Fallon (TX-04), Jake Ellzey (TX-06), Kevin Brady (TX-08), Michael McCaul (TX-10), Ronny Jackson (TX-13), Randy Weber (TX-14), Pete Sessions (TX-17), Jodey Arrington (TX-19), Tony Gonzales (TX-23), Roger Williams (TX-25), Brian Babin (TX-36), Lance Gooden (TX-05), Burgess Owens (UT-04), Ben Cline (VA-06), Morgan Griffith (VA-09), Dan Newhouse (WA-04), Glenn Grothman (WI-06), Tom Tiffany (WI-07), David McKinley (WV-01), Liz Cheney (WY), Beth Van Duyne (TX-24), Ralph Norman (SC-05), Yvette Herrell (NM-02), Madison Cawthorn (NC-11), and Cliff Bentz (OR-02).