Experience Matters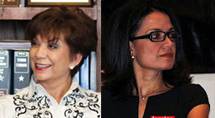 Who would have thought, but South Texas actually has an interesting race on the Republican side for Congress! Of course we are still in the middle of a runoff, but now that we are getting close to November we must look at our candidates and decide who is the conservative that can actually win. Congressional District 34 is probably the most competitive seat in Texas, right behind CD23 where Republican Freshman Francisco "Quico" Canseco is running for reelection, and we must be smart about who we nominate.
In this runoff, we have two Republicans - Adela Garza and Jessica Puente Bradshaw - running for the opportunity to face the winner of the Democrat primary. With this being an open seat, there has been a lot of interest and even some gossip. Despite proclaiming that "Leaders Lead, Not Mislead," Jessica Puente Bradshaw has resorted to spreading rumors about Adela Garza and her family life, even stating that State Rep. Jose Aliseda has only endorsed Garza because they are related - completely not true . . . perhaps someone is jealous?
Though this race has been heated at times, these two woman have some things in common; for instance, both Adela Garza and Jessica Puente Bradshaw were born in Mexico and moved to the US at a young age. Both of these candidates undoubtedly love this country and appreciate the opportunities afforded to those willing to work here; they are running as Republicans after all. Regardless of who wins, South Texas Republicans will be nominating a Hispanic woman who can beat back decades of liberal lies along the border.
The major difference between Garza and Bradshaw though is their experiences. Jessica Puente Bradshaw makes a lot of claims, namely that she is a "political analyst," but what exactly does that mean? Plenty of people can talk and read about politics, but shouldn't we want representatives who can live conservative values rather than just memorize them?
As a Texas Southmost College Trustee, Adela Garza was elected to protect the local community college and greatly delivered. TSC, a two year college, was "married" to the University of Texas at Brownsville, a regional four year university, and while the name recognition was good, the skyrocketing cost was not. What's worse, the UT System Board of Regents gave the TSC Board of Trustees an ultimatum - gift us $200 million worth of assets to be paid for by your local taxpayers or separate the two institutions. As any conservative would do, Adela Garza acted with the majority of her board to save millions of assets for her taxpayers by fighting against a larger power seeking to impose its will.
In the aftermath some lost their jobs in what has come to be known as the "Great Divorce," but it was not at the expense of taxpayers or on the backs of students. You've got to feel bad for those who lost their jobs, but this is what cutting government looks like - universities are government entities and working to save money and cut costs inextricably leads to losses. However, Adela Garza has not only fought in the public sector, she is also a successful small business owner who has started several companies in South Texas - some have succeed and some have failed, but such is the nature of the private sector.
As the owner of a pharmacy, Adela Garza understands first hand the negative effects of government overreach; whether it's because of Obamacare or a tax system that punishes success, Adela Garza knows that government can only create jobs when it gets out of the way of the private sector. Funny thing about experience, Adela Garza has actually done what we as conservatives want to see - she has created jobs in the private sector and cut the size of government as a college Trustee. In contrast, her runoff opponent Jessica Puente Bradshaw has only read and opined about the issues that face us. She might be a good public speaker, but at this juncture in our nation's history, we need fighters who can actually deliver!