American Soldier, Specialist Donald E. Valentine III
by Ted Poe
on October 23, 2018 at 4:08 PM
---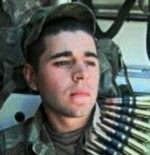 ''The soldier is the Army,'' and ''wars may be fought with weapons, but they are won by men.'' While we mourn those men who die, ''We should thank God such men ever lived.'' These are the words of General George Patton in World War II.
One of those soldiers was Specialist Donald E. Valentine III of the United States Army. He was born in Houston, Texas, on March 5, 1986. Donald Valentine joined the United States Army because of the 9/11 attack on this country.
His mother Anna said, ''My husband and I were behind Donald 100 percent. I was so proud of him no matter what he ever did. He made me very proud to be his mother.'' Those are the words from another of America's Gold Star Mothers.
I met Anna Valentine and many members of the Valentine family at the Veterans National Cemetery in Houston, where mothers like Anna, who had children killed in Iraq and Afghanistan, were being honored. We call those noble women Gold Star Mothers. Anna Valentine's son is buried on that hallowed ground of the fallen in Houston, Texas.
Specialist Valentine was assigned to the 2nd Battalion, 23rd Infantry Regiment, 4th Brigade, 2nd Infantry Division of the Stryker Brigade Combat Team from Fort Lewis, Washington. Specialist Valentine was killed along with two other soldiers on September 18, 2007, in Muqdadiyah, Iraq, when an lED, an improvised explosive device, detonated near him.
You understand the use of an lED by America's enemy is a coward's way of fighting the war. These enemies rant and rave and preach hate in the name of religion, but they cover their faces with masks and hide in caves and dark, dusty ditches. They are afraid to come out in the open and face the American soldier. So our enemy detonates remotecontrolled bombs.
Specialist Donald Valentine III's military roots run deep. His father, Donald II, is a Navy veteran. His brother Daniel, who was 19 at the time, wanted to enlist to be with his brother Donald in Iraq. America owes much to families like the Valentines. Being from a military family, he moved around a lot as a child. He lived in Florida most of his life and also in Idaho, but wanted to be buried in ''Big H,'' as he called Houston, Texas, because of many reasons. One of those reasons was because he spent so much time growing up with his grandparents who live in Houston.
Donald was married for one year to Lucia, who said ''Donald had all the qualities any girl would want.'' She had talked to Donald on their first anniversary, 3 days before his death in Iraq. Specialist Valentine told his family that, ''if he did not survive the war, they should stay strong.'' He was the 91st fallen service member with ties to the Houston area to have been killed in Iraq or Afghanistan.
A statement has been credited to one of Rome's centurions when he told his troops, ''How you yet live will echo throughout eternity.'' Specialist Valentine lived a short but faithful life to the things that were important to him: family and country. He was 21 when he was killed.
General George Patton was right about such warriors. We should thank God that such men as Specialist Donald Valentine III ever lived.
And that's just the way it is.