Breitbart News Interview With Assassinated Texas DA Before His Death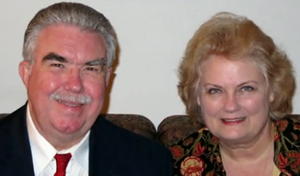 On Saturday, Mar. 30, the bodies of 23-year Army veteran and Kaufman County District Attorney Mike McLelland and his wife Cynthia were found in their home, the victims of an apparent assassination.
Speaking on condition of anonymity, a law enforcement official described the scene at the McLelland's home as "awful," with "shell casings everywhere." This caused Forney Mayor Darren Rozell and local defense attorney Eric Smenner both to suggest the McLellands were targeted:
In December, the Texas Department of Public Safety had issued a statewide bulletin warning that authorities had received "credible information" that the Aryan Brotherhood was "actively planning retaliation against law enforcement officials" who helped secure indictments in Houston against dozens of members, including the gang's leadership.

"High ranking members… are involved in issuing orders to inflict 'mass casualties or death' to law enforcement officials who were involved in cases where Aryan Brotherhood of Texas are facing life sentences or the death penalty," the bulletin stated.
A national security expert who has spent several years in intelligence gathering operations around the Mexican drug cartels' criminal insurgency into the continental United States told Breitbart News, "This assassination of DA McClellend and his wife is meant to send a message: no one is safe, no one is beyond our reach. We will kill you and your loved ones. We are in control here."
"This is a significant point of escalation in the crisis," he continued. "This type of high-profile targeting of public officials is a classic insurgent tactic. Its escalating use inside the US shows a complete lack of fear of consequences and demonstrates the fundamental shift in the strategic landscape that has already occurred.
"The criminal insurgencies and their gang foot soldiers have exported the type of warfare that brought Mexico to its knees deep into our sovereign territory. They are waging a war: targeting, assassinating, using terror tactics—and our law enforcement is outgunned and overwhelmed."
Breitbart News interviewed McLelland several weeks ago as part of an investigation into Mexican drug cartel criminal insurgency operations in the United States, including Texas, New Mexico, Arizona, and the city of Chicago. Breitbart News' Brandon Darby conducted the interview with D.A. McLelland in his office in Kaufman, TX.
McLelland spoke about the recent assassination of his Assistant District Attorney Mark Hasse, who was himself gunned down in broad daylight on the Kaufman County Courthouse steps by a masked gunman who has yet to be apprehended.
Also, on March 19, Colorado's prisons director, Tom Clements, was shot and killed while answering his front doorbell at his home outside Colorado Springs. The suspect in that case was Evan Spencer Ebel, a member of a white supremacist prison gang, later shot while trying to escape authorities on March 21st.
Breitbart News wanted to ask McLelland specifically about potential connections between the Mexican cartels and the Aryan Brotherhood—whether the Aryan Brotherhood seemed to be acting on the cartels' behalf.
The following is the portion of the conversation that McLelland permitted Breitbart News to place on record. The rest he asked be kept off the record.
McLelland: Mark [Hasse] was a hell of a good man, he never minced words. He was fearless. He came in to this office and started taking cases that had been left for years by previous prosecutors. Justice mattered to him.
Breitbart News: I've noticed just how secure this building is and how everyone looks so alert and nervous. This isn't at all what small town or small county couthouses in Texas are usually like. Is this level of security normal around here? Will it stay this way?
McLelland: In Kaufman County, everybody is somebody's cousin and knows each other. We're not used to this, but it has to be this way now.
Breitbart News: I'm sorry for your loss. I can only imagine how this affects you all personally, but what does your loss mean professionally, for this office?
McLelland: You can't replace a really good guy that everyone liked. You can't replace 30 years of knowledge just like that either.
Breitbart News: What would he want you guys to do?
McLelland: He would want us to drive on and go get the guys, to go get them.
Breitbart News: What changes do you want to see from this? What could be done to keep prosecutors safer?
McLelland: We need to be just like other law enforcement officers. We need to be allowed to open carry our sidearms. There's a state representative named Lance Gooden [R-4th District] who I've spoken with about this and he'll do something. He'll make something happen.
Breitbart News: Earlier you said you didn't want to comment on the investigation, and I understand. But I have to ask. Some have said you guys were going after the Aryan Brotherhood. Some have said low-level Mexican cartels have had involvement with the Aryan Brotherhood in Texas regarding methamphetamine trafficking?
McLelland: Interesting. I can't comment on any of that.
Breitbart News: Is it possible the Aryan Brotherhood is either acting as hitmen or paying prosecutors back? Are you guys looking into that?
McLelland: I can't comment on that investigation. I will say with the caliber of people working on it, I feel confident justice will be served.
---
Originally posted on Breitbart.com.