Brian Terry's Death Exploited, Says Family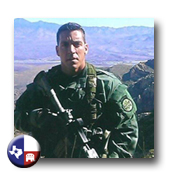 Breitbart Texas has discovered a Facebook page selling merchandise with slain Border Patrol Agent Brian Terry's image under the guise of supporting the Brian Terry Foundation. Terry's family, however, says not so fast—stating the page has no connection with the official foundation organized in his memory.
The Facebook page "Project: Honor First" claims to be "directly aligned with the Brian Terry Foundation in an effort to pursue the truth, and to bring those responsible to justice."
The page makes an offer to sell T-shirts honoring Brian Terry. The page owner claims that 100 percent of the money raised from selling these shirts will go to the Brian Terry Foundation. Apparently, according to comments on the Facebook page, many have complained of not receiving the shirts they ordered.
Breitbart Texas contacted Ralph Terry (Brian Terry's uncle), President of the Brian Terry Foundation which was established after Brian's death to honor him and provide scholarships to families of Border Patrol Agents who have been killed or injured in the line of duty.
Ralph Terry explained the Facebook page is in no way associated or affiliated with the Brian Terry Foundation. He said the board of his organization is assisting law enforcement in their investigation into this alleged scam. "My understanding," Ralph Terry explained, "is that no one who ordered one of these shirts received one."
"It is disgraceful," Ralph Terry continued, "That someone scam people by pretending to be associated with a man of honor like Brian Terry. The Board of Directors has been looking into this for some time now."
In an interview with Breitbart Texas, Brian Terry's sister, Michelle Terry-Balogh said, "It's a shame someone would take advantage of someone using Brian's name."
Michelle Terry-Balogh revealed more information about the page and the person behind it. "Our investigation has revealed the man behind this phony page is named Harrison Cutler and it is believed he is from Pennsylvania."
Terry-Balogh claimed, "His personal Facebook page is listed as 'Harrison Bear-Jew Cutler' and he made claims on his 'Project: Honor First' page that he is a former Border Patrol Agent." A visit to the Facebook page shows a black-taped U.S. Border Patrol Badge (a symbol of mourning) and also has a photo of the same shirt that was being offered for sale on the "Project: Honor First" page. Terry-Balogh said she learned the claim that Cutler made about being a former Border Patrol Agent is also false. "We learned," she explained, "that Cutler entered Border Patrol training and was released after only two days." She said that several federal law enforcement agencies are investigating this scam. Ralph Terry said, "We do not want to see Brian Terry's name nor that of the foundation tarnished by the actions of this individual. Brian Terry's actions throughout his life as a U.S. Marine, a police officer and a U.S. Border Patrol Agent revealed that he was always about 'Honor First' and about placing service above self." A visit to the "Project: Honor First" Facebook page shows that no new posts have been made on the page for nearly a year. Several people have posted on the page complaining of ordering and not receiving shirts.
Breitbart Texas contacted Mr. Cutler via a private message to his Facebook page. Eventually Cutler responded to the inquiry stating, "I'm not directly affiliated and I'm not scamming. I've been undergoing cancer treatments and I posted a response on the group's page [Thursday]."
The response was indeed posted yesterday on the "Project: Honor First" page at about the same time he responded to Breitbart Texas' inquiry:
"Guys. My sincere apologies for the lack of comms and everything. As many of you know, I was diagnosed with cancer and dealing with that, in addition to a move and a new job. As such, I've been in and out of the hospital for several weeks. The shirts are being packaged and sent out and WILL BE TO YOU BY MEMORIAL DAY AT THE LATEST. If you have any questions, please feel free to call me directly at [he provided his phone number]. Those who know me know I am not trying to scam anyone. And they also know that this is my real phone number. I have not spent any of the funds raised on anything but the original shirt purchase, and I will be covering the cost of shipping on my own. AGAIN! My sincerest apologies."
In a phone interview with Breitbart Texas, Cutler expressed regret that this has gotten so far out of hand. He blamed his cancer diagnosis in September; however, by looking at the Facebook page, it seems his failure to deliver these products began long before. Cutler confirmed that 95 shirts had been ordered at $25 each. He pledged to get the shirts from his storage room and begin shipping them by March 15th.
In response to his claims about being a former Border Patrol agent, Cutler explained that was a miscommunication. He explained that he enrolled in the Border Patrol academy but did not graduate. The "Project: Honor First" page still says, "Project: HONOR FIRST is directly aligned with the Brian Terry Foundation in an effort to pursue the truth, and to bring those responsible to Justice." He admitted this could be misunderstood as representing that he was directly affiliated with the Brian Terry Foundation, which he is not. Cutler promised to clarify this statement. He apologized to his customers and promised to ship the shirts in the next couple of weeks. He also promised that the donation to the Brian Terry Foundation in his offer would be honored after the shipment of the shirts in March. He expressed regret about any dishonor his "Project: Honor First" page may have reflected on Brian Terry's memory. "That was the last thing I ever wanted to have happen," Cutler claimed.
Recently the Terry family traveled to Arizona to testify at the sentencing hearing for the illegal alien who was captured the night of Brian Terry's murder. Manuel Osorio-Arellanes was sentenced to thirty years for his involvement in Terry's murder. Terry's other sister, Kelly Terry-Willis addressed the convict by name and told him he was a coward who had chosen the wrong path in life. She described Brian Terry as a loving and devoted family man and a friend. "He was a man who loved God and life."
The two loved to have dance-offs, whether in public or private. "I would give anything to have one more dance-off with my brother," Terry-Willis said.
Terry was murdered in December 2010 by a Mexican bandit gang while on patrol in the desert of southern Arizona. One of the guns found at the murder scene was later determined to be part of what came to be known as the Fast & Furious scandal.
---