CHRIST'S PASSION PLAY in San Antonio, Texas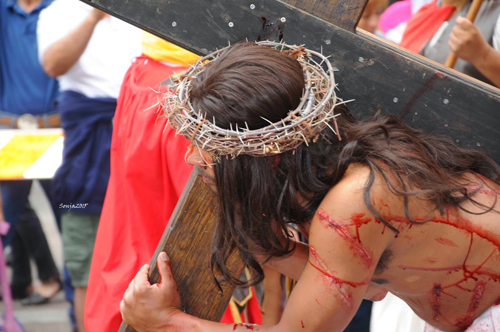 On April 3, 2015, Good Friday, over a thousand people lined the streets from Milan Park to the San Fernando Cathedral waiting to see the reenactment of the Crucifixion of Christ. The passion play sponsored by the San Fernando Cathedral was first presented to the public in 1983 when a heavy wooden cross was used weighing 150 lbs. as compared to the 50 lb. cross currently used.
It was invigorating to see so many turn out on Good Friday to appreciate what it may have been like for Christ our Savior suffering on his way to Golgotha. The play was said in Spanish, the language of the predominately Hispanic audience. There was one man standing next to me translating into English so his family could understand. Archbishop Gustavo Garcia-Siller was in attendance and took the part of Simon who carried the cross for Jesus. He then followed behind the actor, Emmanuel Quijano who portrayed Jesus Christ.
The enactment included Pontius Pilate washing his hands, the scourging at the pillar, carrying of the cross and falling on the way to Golgotha, The Place of the Skull, the Death on the cross, amd Mary the mother of Jesus holding her son in her arms after His body was removed from the cross. The play was very well portrayed and should have a lasting impression on the very young as well as the adults who understand the significance that Christ died on the Cross for our redemption.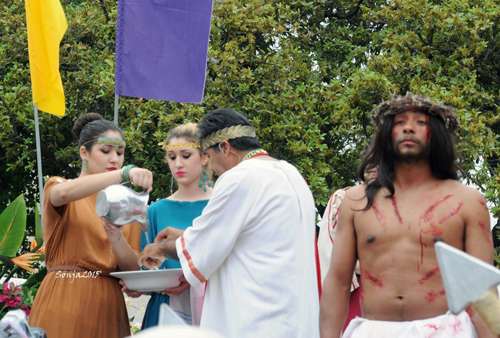 I must admit that as a native San Antonian I had never taken the time to witness the passion play, but life has a way of making you see things with a wider lens, that is to say, in a deeper more meaningful way. So much is happening in our society today that I fear one day we might not be able to see such a public demonstration of Christianity. Our Religious Freedom is constantly under attack and so many Christians, including Catholics, take their daily lives and Religious Expression for granted.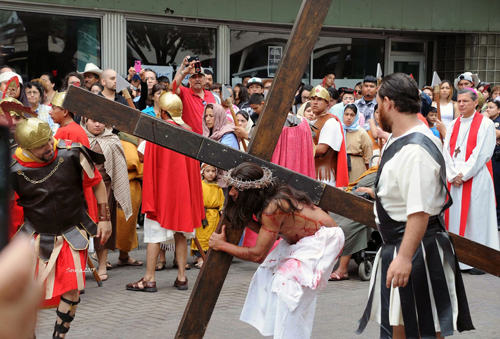 John Chapter 19: 1-6
Then Pilate took Jesus and had him scourged. And the soldiers wove a crown out of thorns and placed it on his head, and clothed him in a purple cloak, and they came to him and said, "Hail, King of the Jews!" And they struck him repeatedly. Once more Pilate went out and said to them, "Look, I am bringing him out to you, so that you may know that I find no guilt in him." So Jesus came out, wearing the crown of thorns and the purple cloak. And he said to them, "Behold, the man!" When the chief priests and the guards saw him they cried out, "Crucify him, crucify him!" Pilate said to them, "Take him yourselves and crucify him. I find no guilt in him."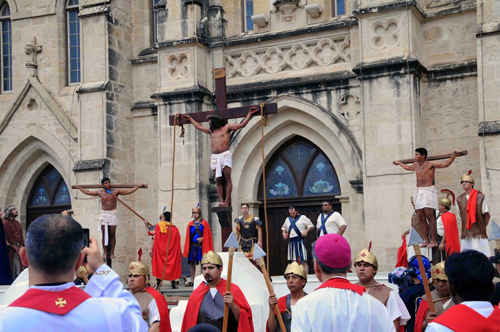 John Chapter 19: 17-18
And carrying the cross himself he went out to what is called the Place of the Skull, in Hebrew, Golgotha. There they crucified him, and with him two others, one on either side, with Jesus in the middle.
Matthew Chapter 27:46
And about three o'clock Jesus cried out in a loud voice, "Eli, Eli, lema sabachthani?" which means, "My God, my God, why have you forsaken me?"
This article and photographs, a labor of love, is dedicated to my brother, Richard. It is also dedicated to all Christians around the world that are being persecuted and murdered because they dare take a stance and believe in our Lord and Savior Jesus Christ. It is only through our tenacity and love of Christ that our faith will survive for future generations. My wish is that all of you have a very peaceful and blessed Easter.
RED SONJA 2015©
Pray, Fight, NEVER GIVE UP!
More photographs are available at Conservatives in Action Facebook page
https://www.facebook.com/media/set/?set=a.944693688894535.1073741833.219... AND
TexasGOPVote Facebook page photo stream
https://www.facebook.com/TexasGOPVote/photos_stream