Congressman Brady Congratulates Local Resident for Promotion to Colonel; Announces State of the Union Guest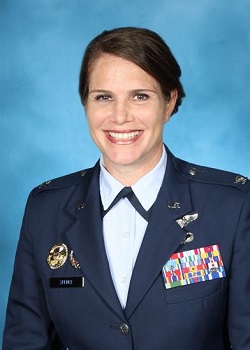 I congratulated D'Anne Emmett Spence of Huntsville, Texas, as she was promoted to the rank of Colonel of the United States Air Force, and invited her to be his guest at the State of the Union Address.
I want to offer my sincerest congratulations to D'Anne Emmett Spence on her promotion. Achieving the rank of Colonel speaks to her outstanding character, work ethic, and service to her nation. As a Huntsville native, Spence embodies all of the very best that the Eighth Congressional District of Texas has to offer, and it's truly an honor to represent her in Congress.
"I am honored and grateful to be selected for my promotion," Spence stated. "I have so many people in my personal and professional lives to thank for their support and encouragement – especially my parents and children. Without their guidance, leadership and love I would not be where I am today. I am excited to continue serving the Air Force, and my country, in this new role."
Colonel D'Anne Emmett Spence will be accompanying me to the Capitol as my guest for next week's State of the Union Address.
I have had the privilege of working alongside Colonel Spence when she spoke to local cadets during our annual Military Academy Sendoff Breakfast. She is an inspiration and role model to so many in our community, and I couldn't think of a better guest to accompany me.
"Throughout my time in the Air Force I have been fortunate to experience many amazing things, travel around the globe, and serve my country in many capacities," Spence said upon accepting the invitation. "Attending the State of the Union Address with Congressman Kevin Brady will certainly top the list. I am humbled at this opportunity to act as a representative of the Great State of Texas, and excited to hear the messages directly from our Commander in Chief."
Born and raised in Huntsville, Colonel D'Anne Emmett Spence is the proud daughter of Joe and Judy Emmett. Longtime Huntsville resident Joe Emmett has owned and operated Emmett Plumbing for over 40 years, and he has served as a City of Huntsville Councilman since 2012. Judy Emmett also represents her community as an elected official on the Hospital district, a member of the Sam Houston University Alumni Board, and has been a real estate broker in the Huntsville area for over 40 years.
"We are so delighted for our daughter, D'Anne," the Emmetts said. "As we have watched her grow from a Cadet at the US Air Force Academy, to now a Colonel, we have seen her accomplish so many things in her service to this great nation. As civil servants ourselves, we have raised D'Anne to live a life of serving others and we could not be more proud."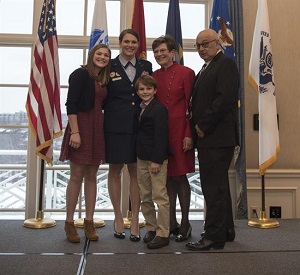 Upon graduation from Huntsville High School in 1995, Spence was recruited to the Air Force Academy to play tennis. After graduating the Academy in 1999 with a degree in Chemistry, Spence entered the Air Force while continuing her studies, earning multiple advanced degrees. Her vast career experience includes headquarter assignments with positions for the Secretary of Defense and the Chairman of the Joint Chiefs of Staff, being the Special Assistant Chief for Legislative Affairs Office of the Secretary of Defense, holding the position of Chief, Legislative Liaison for Defense Programs at the National Nuclear Security Administration, Department of Energy, teaching as a professor at the Academy, and acting as the current United States Air Force Academy Liaison to the National Capital Region, Washington DC Office. She currently resides in Arlington, VA with her two children, Samantha and Emmett.