Congressman Tony Gonzales Honors BAMC Nurses on House Floor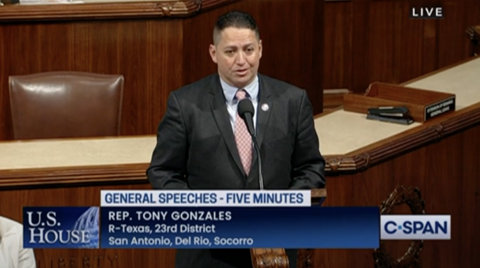 I spoke on the House floor on Thursday in celebration of National Nurses Week, recognizing nurses at the Brooke Army Medical Center (BAMC). In May 2019, I spent 23 days – 3 of which were in a coma – at BAMC after sustaining brain trauma and kidney failure due to improper intubation during a routine procedure.  
Watch his full speech here.
I praise God that the nurses at BAMC brought me back to life. In particular, there were three nurses during my stay at BAMC: Monica, Alyssa, and Jenna. Alyssa, my day nurse, kept me alive during the day and Jenna, my night nurse, kept me alive at night. Without nurses I wouldn't be here. Many of us have or know of similar stories. In this institution we lose sight of everyday people who roll up their sleeves, go to work and make this country better.
Nurses don't care who you voted for, the color of your skin or who you pray to. They care about protecting life and making sure everyone has the opportunity at a great quality of life. I'm grateful to all the nurses out there, specifically those at BAMC.