Cornyn on the 50th Anniversary of the Moon Landing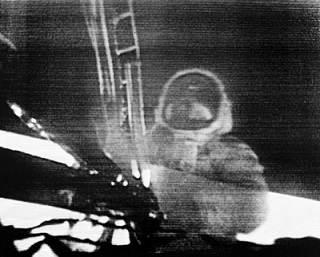 I spoke about my personal experience watching the moon landing, Texans' role in the historic achievement, and my resolution to honor the 50th anniversary on the Senate floor. Excerpts of my floor remarks are below, and video can be found here.
Fifty years ago, the world was transfixed by a grainy black-and-white image of Neil Armstrong descending a ladder preparing to take humankind's first steps on the moon. I was one of more than a half billion people, the largest television audience in history, glued to that TV screen on that day.
I didn't quite understand what this development would mean for the future. I just remember thinking at that moment how proud I was to be an American. I looked up to these three men, and I still do, and I marvel at their courage, their intelligence, and their patriotism, as well as that of tens of thousands of Americans involved in getting them to the moon.
That day, July 20th, 1969, established the United States as the world's leader in human space exploration. It also put my hometown, the place of my birth, Houston, on the map as a hub for spaceflight innovation in the United States.
We all remember the very first words uttered by Neil Armstrong after landing. He said, 'Houston, Tranquility Base here. The Eagle has landed.' Of course, he was talking to the greatest minds of the generation who were working at Johnson Space Center in Houston, Texas.
You can do like I have and visit Johnson Space Center yourself and see NASA's mission control from Apollo. It's redesigned to look exactly the way it did in 1969, down to the retro coffee cups and glass ashtrays. You can watch the Houston Astros take on Oakland while wearing Apollo 11 caps. And across the state, you can find special movie screenings, space-themed menus, and Ask-an-Astronaut events to educate our next generation of space travelers.
To commemorate this historic mission in Washington, I've introduced a bipartisan, bicameral resolution…This resolution honors Apollo 11's three crewmembers – Neil Armstrong, Buzz Aldrin, and Michael Collins – whose bravery and skill made this feat possible. In addition, it commends the work of the brilliant men and women who supported this mission on Earth, including mathematicians like Katherine Johnson and the astronauts who lost their lives in previous spaceflight missions.
For the 50th anniversary of the lunar landing today, we honor the brave and brilliant astronauts, physicists, engineers, mathematicians, and scientists of all kinds who made our nation the first to touch down on lunar soil. We're grateful for their courage, their sacrifices, and their immeasurable contributions to our nation's space program.