Cornyn: Hurricane Response Efforts Highlight Importance of Passing Defense Bill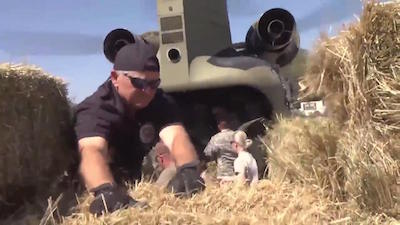 Yesterday on the Senate floor, I highlighted recovery efforts led by our military during natural disasters, like Hurricane Harvey, as the Senate considers the National Defense Authorization Act. Excerpts of my remarks are below, and video of my remarks can be found here.
The weight of hurricane Harvey is still pressing down on my home state of Texas, where many are struggling for some good news and a breath of fresh air.
I can't tell you how proud I am of the great collaboration, and consultation, and support that we have gotten from the President at the federal level, all the way down to the state and local leadership.
Members of our military have served crucial roles throughout the storm and continue to do so now that the waters have begun to recede. These include the U.S. Coast Guard and Marine Corps, the Army, Navy, and Air Force.
The Army National Guard alone delivered more than 75,000 pounds of hay to flooded ranches and stranded cattle. Other troops showed up to provide medical services and disaster relief supplies. They assisted with debris management, route clearance, and, in scenes we have all seen on TV, heroic search and rescue operations.
Our military has helped in ways that perhaps most of us don't really appreciate. They just don't exist to fight and win our wars; they respond to natural disasters like Hurricane Harvey and Irma as well.
We know the importance of making sure that this week and next we do everything we can to demonstrate our real support for our men and women in uniform by passing the National Defense Authorization Act. That's why this is so important this week: because not only does it affect our readiness, as I said earlier, to fight and win our nation's wars in places around the world, it's also important to our ability to respond to natural disasters.