DISCOVER the MYSTERY of the MAN of the SHROUD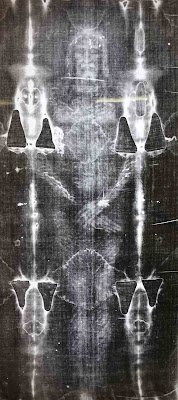 Take the journey with me and determine and decide for yourself "Who is the man of the Shroud?"  An image of a crucified man on a linen cloth is thought to be Jesus.
This ancient relic has baffled scientists for centuries.  It has been studied and researched by hundreds of experts in their fields. A replica of the original Shroud is now being exhibited at the Pilgrim Center of Hope at 7680 Joe Newton in San Antonio, Texas, 210 521 3377 on Fridays only from 10am to 4pm. The burial cloth in Turin, Italy is believed to be authentic.
The negative view is extremely impressive and I doubt you can ever forget the image once you see it. Barrie M. Schwortz was the photographer of the linen cloth and the negative reversal and was part of the original research team in 1978. He is considered an expert on the shroud and whether or not it wrapped the corpse of Jesus when he was taken down from the cross. 
In reality, when you visit the Exhibit you get to decide if it's possible that the shroud of Turin is authentic or a fake. That's the beauty of this fascinating exhibit. The exhibit "Who is the Man of the Shroud" can be seen most Fridays from 10am to 4pm at no charge.
Take the journey with me and let me know your thoughts, is the "Man of the Shroud" a Relic or a Hoax?
Visit https://shroud.com/
 Or