Elbert Guillory: "Why I Am a Republican"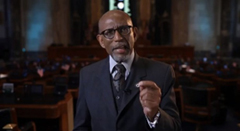 Elbert Lee Guillory is the state senator for Louisiana District 24.
Senator Guillory recently announced he had decided to change from the Democrat party to the Republican party.
Watch and listen as he explains why he made the move that will undoubtably be demonized by the Congressional Black Caucus and other blacks still on the Dem plantation.
"Somehow it's been forgotten that the Republican party was founded in 1854 as an abolitionist movement."
"The left is only concerned with one thing: control, and they disguise this control as charity. Programs such as welfare, food stamps...these programs arent designed to lift black Americans out of poverty, they were always intended as a mechanism for politicians to control the black community. The idea that blacks, or anyone for that matter, need the government to get ahead in life, is despicable. And even more important, this idea is a failure. Black communities are just as poor as theyve always been."
---
Related Content: Pastor John Lawson explains "Civil Rights Industry" and Why Black People Should Abandon Democratic Party (VIDEO)